This post features solutions to fix NVIDIA GeForce Now Error 0xc192000e. GeForce Now is a cloud game streaming service by NVIDIA that offers real-time gameplay from the cloud to your device. It is undoubtedly one of the best cloud gaming platforms in every aspect. However, recently some users have been complaining about GeForce Now Error 0xc192000e. Fortunately, you can follow some simple steps to fix it.
There was a problem connecting to Geforce Now. Error 0xc192000e.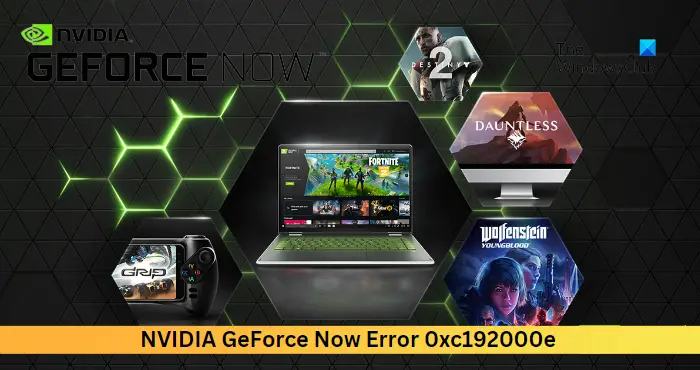 Why is GeForce now saying there was a problem starting your session?
The error message there was a problem starting your session usually appears if the server is facing a downtime. However, this error can also occur if you have an unstable internet connection or some error in your GeForce now account.
Fix NVIDIA GeForce Now Error 0xc192000e
To fix error code 0xc192000e on GeForce Now, first, restart the application and your device. Also, check if your device has the latest version of the graphics driver installed. If that doesn't help, here are some tested fixes:
Clear Browser Cache and Cookies
Restart your Router and Modem
Check GForce Now Server Status
Update GeForce Drivers
Disable VPN/Proxy
Run GeForce Now as an Admin
Restart NVIDIA related Services
Reinstall GeForce Now
Now, let us see these in detail.
1] Clear Browser Cache and Cookies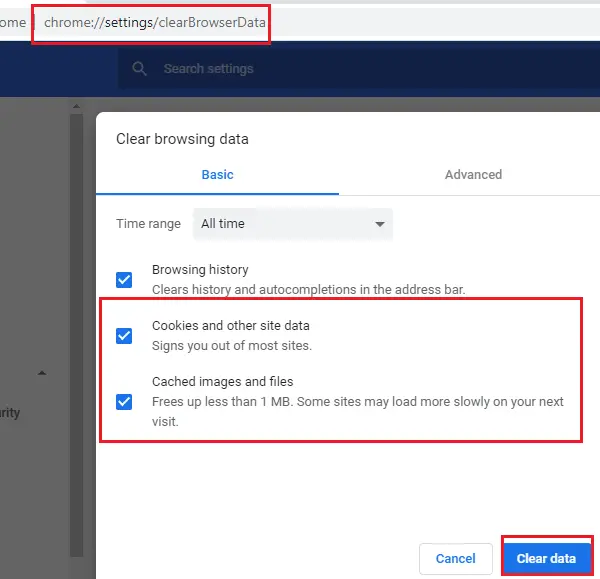 If using GeForce Now on a web browser, try clearing its cookies and cache data. Its possible the cache data is corrupted, causing this issue. Here's how you can do it:
Open Google Chrome and click on the three vertical dots at the top right corner.
Click on Settings and navigate to Security and Privacy.
Click on Clear Browsing Data.
Check all the options and click on Clear Data.
These posts will show you how to clear the browser cache in Edge, Firefox or Opera.
2] Restart your Router and Modem
Errors like this can also happen if you have an unstable Internet connection. Perform a speed test to check if anything is wrong with your Internet connection. If the internet speed is less than the plan you opted for, try restarting your router and modem. However, contact your service provider if restarting your router and modem doesn't work.
3] Check GForce Now Server Status
Check the GeForce Now Server status, as the servers may be under maintenance or facing downtime. You can also follow @NVIDIAGFN on Twitter to check if they've posted about ongoing maintenance. If many people have the same issue, the server may face downtime.
4] Update GeForce Drivers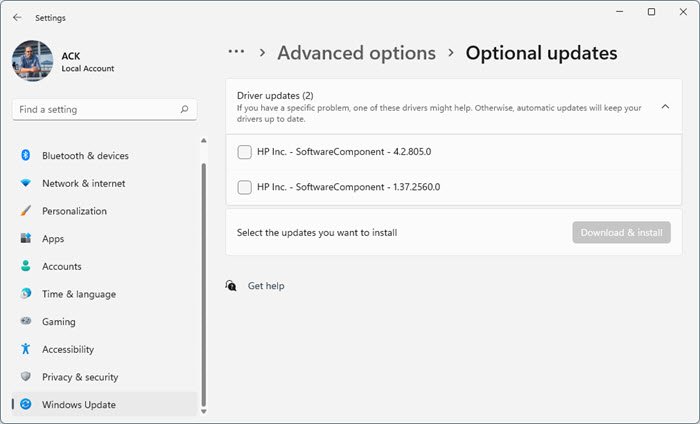 Outdated or corrupted graphics drivers can also be responsible for NVIDIA GeForce Now error 0xc192000e. Update your device's Graphics drivers and check if the issue gets fixed. Here's how you can do it:
Open Settings and navigate to Settings > Update & Security > Windows Update.
Right under it, look for a clickable link—View optional updates.
Under Driver Updates, a list of updates will be available, which you can choose to install if you are facing an issue manually.
Some of you may want to use free Driver Update software or tools. If that's the case, NV Updater will update NVIDIA Graphic Card Driver.
5] Disable VPN/Proxy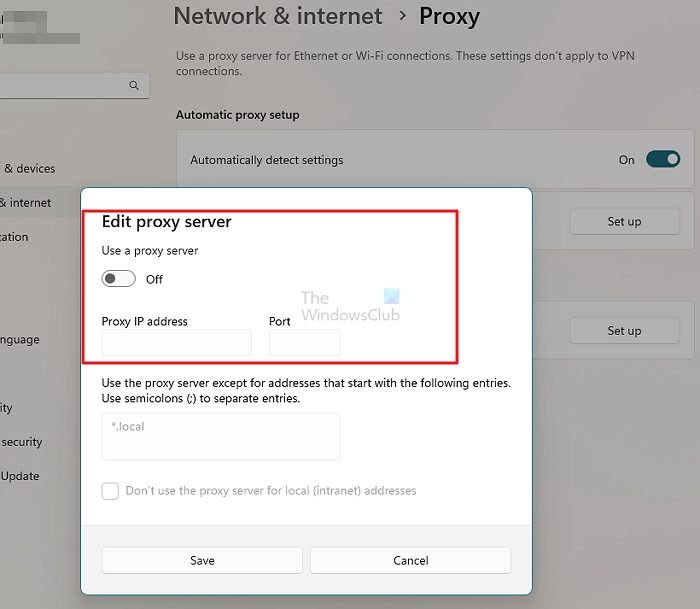 Server errors can occur if connected to a VPN/Proxy server. VPN and Proxy hide your IP address by rerouting your Internet traffic via a remote server. Nevertheless, here is how you can disable it:
Press the Windows key + I to open Settings.
Navigate to Network & Internet > Proxy.
Here, toggle off the Automatically detect settings option.
Click on the Set up option next to Use a proxy server and toggle off the Use a proxy server option.
6] Run GeForce Now as an Admin
Running the application as an administrator ensures it doesn't crash due to a lack of permissions. To run GeForce Now as an admin, right-click on the NVIDIA GeForce Now.exe file and select Run as Administrator.
7] Restart NVIDIA related Services
This step requires you to restart all NVIDIA-related services. These services perform various tasks on installed services, including the services installed by third-party apps. Here's how you can do it:
Click on Start, search for Services/msc and click open.
Scroll down and search for services related to NVIDIA.
Right-click on each service one by one and select Restart.
Close the tab once done and check if the error code 0xc192000e gets fixed.
Read: How to Fix NVIDIA GPU Error Code 45
8] Reinstall GeForce Now
If none of those mentioned workarounds can help you, the app's core files might be corrupted. To fix this, reinstall GeForce Now from your system, and start installing it again.
Do let us know if this post helps you!