Many users are reporting that they are seeing Error Code 529 when trying to access the Minecraft Realms. The problem with this error in particular is that you can not fathom what's the reason as there is no error message. So, if you are seeing Minecraft Realms Error Code 429 on your Windows 11/10 PC then use the solutions mentioned here to resolve the issue.
What does 429 mean in Minecraft?
Error Code 429 comes with no message, but it means, Request Limit Reached,  which, needless to say, is a server issue. It occurs when your system sends a ton of requests to the Minecraft server, which, according to their security policy classify your request as DDoS attacks. You may not send all these requests manually, but it can be an error from your side that's causing sending of the requests.
Resolve Minecraft Realms Error Code 429 on PC
If you are experiencing Minecraft Realms Error Code 429 on PC, then these are the solutions that can help you in resolving the issue.
Change your Network
Retry after sometime
Stop Automatic Java Updates
Clear the Minecraft Cache
Reinstall Minecraft
Let us talk about them in detail.
1] Change your Network
If you are constantly seeing this issue, then maybe your network is blacklisted. If that's the case then there is no need to worry, you just have to switch your network. You can use your phone's mobile hotspot or your friend's Wi-Fi. If you can't do all that, then use VPN. There are some free VPNs, but they may limit your speed. If you want high-speed Internet then it is better to invest in a good VPN service.
Figure out what's best for you and hopefully, your issue will be fixed.
2] Retry after sometime
Sometimes, after entering a lot of wrong credentials or after seeing this error code, it is better to wait for a few minutes, probably somewhere around half-an-hour and then try connecting to the realm. Hopefully, you will be able to connect.
3] Stop Automatic Java Updates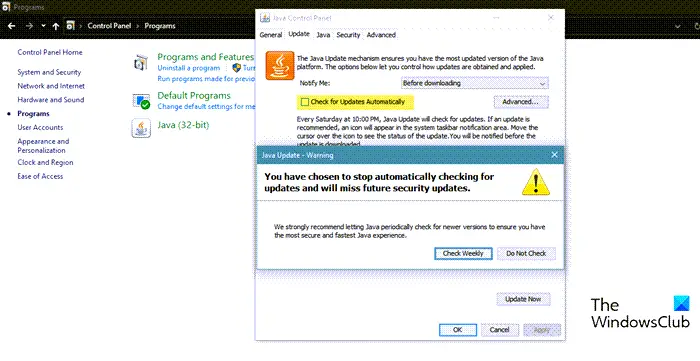 If you have enabled automatic Java Updates, then maybe your system is sending requests to check updates without your knowledge that can cause this issue. So, you need to stop automatic updates of Java and see if the issue persists.
Follow the given steps to do the same.
Open Control Panel.
Click Programs.
Now, open Java.
Go to Updates tab and untick Check for updates automatically.
You will see Java Update warning pop-up, choose an option as either of them will work.
Hopefully, this will resolve the issue for you.
4] Clear Minecraft Cache
Next up, if the issue persists, then try clearing your Minecraft Cache. This can resolve the issue for you. To do that, open Run and paste the following environmental variable.
%appdata%
Now, delete the Minecraft folder from there, after doing that, restart your computer and hopefully this issue will be resolved.
5] Reinstall Minecraft
If everything fails then reinstalling the game is your last resort. But first, you need to uninstall Minecraft. To do that, follow the given steps.
Open Settings by Win + I.
Click on Apps.
Look for Minecraft.

In Windows 11, click on the three dots and select Uninstall.
In Windows 10, select the game and click Uninstall.
Now, delete the Minecraft folder (see the second solution). Finally, re-download and reinstall it and see if the issue persists.
Why can't I join a realm on Minecraft PC?
You won't be able to join a realm in Minecraft if you are using a modded game client. So, make sure that's not your case. Other than that, you can use the solutions that we have mentioned earlier to fix the issue. No matter whether you get this problem on Windows 11, Windows 10, or any other version, the solutions are the same.