Just when you are about to explore infinite worlds and build things in Minecraft, you experience the Minecraft OpenGL Error 1281 on your Windows 11/10 computer. It can ruin your gaming session. So, before it gets too serious, try these workarounds to resolve the issue.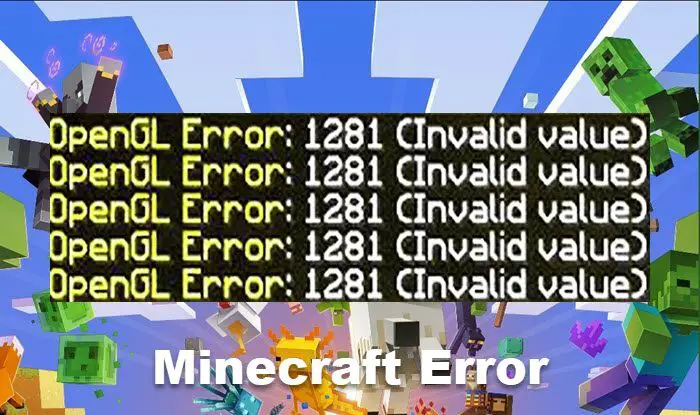 How to fix Minecraft OpenGL Error 1281?
It is a common error related to the OpenGL debugging settings. OpenGL, formally known as the Open Graphics Library helps in reducing the rendering load on the system, thereby making a game run faster and smoother on a computer. Gaming applications like Minecraft take full advantage of it. So, any error related to it can impact your gaming experience.
Update OptiFine for Minecraft
Remove Minecraft Shaders
Install the latest version of the JAVA file package
Hide OpenGL Errors.
Let's cover the above methods in a bit more detail!
1] Update OptiFine for Minecraft
Folks who are not aware, OptiFine is a Minecraft optimization mod that enables Minecraft to run faster and look better with full support for HD textures and other useful configuration options. Any issues with it, can result in getting Minecraft OpenGL Error 1281.
To fix it, visit this page and download the file. Double-click the file to install it.
Open the Minecraft Launcher and check if the file has been uploaded under Installations.
Hit the Play button to allow it to load.
2] Remove Minecraft Shaders
Minecraft Shaders, also known as shader packs, add multiple lighting effects and 3D textures to the game. This makes it look more realistic. In short, Shaders for Minecraft are like add-ons for the game which allows players to apply different effects. And since these shaders rely on the resources of the application, they can have compatibility issues with other mod modules. To fix this disable or remove Minecraft Shaders and see if it fixes your problem.
Open Minecraft > go to Menu > choose Options.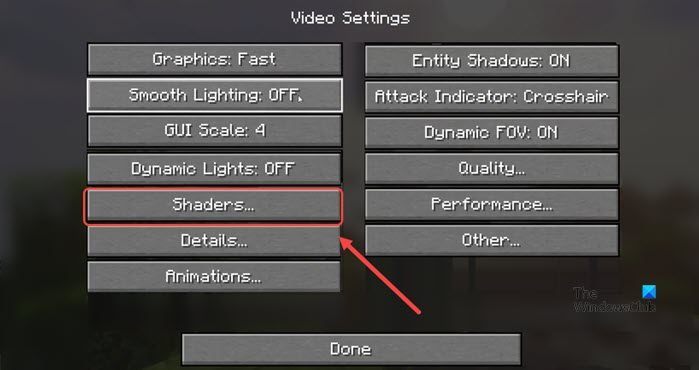 Hit the Video Settings tab > Shaders > turn off the Shaders.
3] Install the latest version of JAVA file package
It's no secret! All mods used for the Minecraft game are in Java format. So, if the Java packages are not installed or configured correctly on your device, it will result in the OpenGL error. That's because they will fail to initialize correctly. To fix this,
Go to the official website of Java.
Scroll down the webpage and go to the Windows section
There, choose to download the latest Java for your compatible Windows by clicking the Windows Online link.
Once the downloading process has finished, click the file to install it.
Follow the on-screen instructions.
Following this, restart your PC.
4] Hide OpenGL Errors
If you wish, you can also hide Minecraft OpenGL Error, as follows:
Launch Minecraft
Open Options
Click on Video Settings > Others
Turn off Show GL Errors
Click Save
Restart Minecraft.
Do shaders affect FPS Minecraft?
Minecraft shaders bring your Minecraft experience to life and the right set of shaders can make the world really sparkle. However, while improving graphics they can cause lagging in-game. So yes, shaders can affect FPS Minecraft.
What are the least laggy shaders?
Kuda Shaders is one of the most popular shader packs out there. This pack offers beautiful shadows that are very smooth and helps in keeping Minecraft running normally without any lag. Apart from this, there's Chocapic Lite. It's also considered to be one of the least laggy shaders.
Related: No Sound on Minecraft on Windows PC.