Sharing files on the web with friends and family via peer-to-peer in many cases require a BitTorrent application, especially when the files being shared are very large. But what if one day you feel the need to share files via a web browser? If the boys at Opera had kept innovating, searching for ways to do it via a web browser would never be a problem today. Before adopting the Chromium engine, Opera had a feature that allowed users to turn their computers into a server. With that now just mere history, a new way has arisen in the form of File Pizza. It's an odd name, but don't let it fool you, this service is great for peer-to-peer.
Free peer-to-peer file transfers in your browser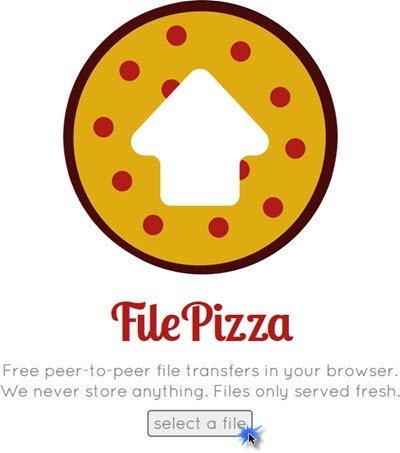 Share files via your browser using File Pizza
Let's talk about how to share files with FilePizza.
First, you will be required to visit the FilePizza website, using Chrome or Firefox browsers only. You should realize how clean the website looks, which is something we've come to admire.
Once you've visited the FilePizza homepage, click on the button that says "Select a file." After that, choose the file you want to share with either your buddy or a family member.
Bear in mind that you can only select a single file at a time. Yes, it would be great if users could choose more than just a single item, and we hope this is addressed in a future update.
If you want to send more than one file, we suggest storing them in a .RAR or .ZIP archive, from there, you'll be good to go.
With this service, you can send any file you wish; whether it documents, pictures, videos, or a .GIF file of you drinking milk.
One important thing. With Chrome, we suggest limiting the file size to 500MB, but you do not have to do this with Firefox.
We should also point out that File.Pizza does not store your files. Your files never touch their server. Instead, they are sent directly from the uploader's browser to the downloader's browser using WebTorrent and WebRTC. This requires that the uploader leave their browser window open until the transfer is complete. All transfers are done using your bandwidth and directly from your computer. So, if your upload speed is lacking, do not attempt to send huge files to anyone.