Facebook Legacy lets users choose an heir after their death for their Facebook account. You can select a Friend as a legacy contact.
Ever wondered what will happen to your online accounts after you die? Who will access your email accounts, Facebook IDs, and Twitter handles? Facebook, the most popular social networking website today has your very important personal details, photos, and videos; ever wondered what will happen to those after you are no more?
Our Facebook accounts won't die with us, it remains online, and your valuable data could be lost forever or be hacked by some exploiters.
How to add a Legacy Contact on Facebook
Well, Facebook brings a nice solution to this problem. Facebook now lets you choose an heir to your account with Facebook Legacy.
Facebook Legacy is a relatively unknown feature released by the social networking company. This feature lets users choose to designate their account to their heir after their death or they can choose to delete the account.
If someone chooses, they may give their legacy contact permission to download an archive of the photos, posts and profile information they shared on Facebook. Other settings will remain the same as before the account was memorialized, The legacy contact will not be able to log in as the person who passed away or see that person's private messages.
Choose an Heir for your Facebook Account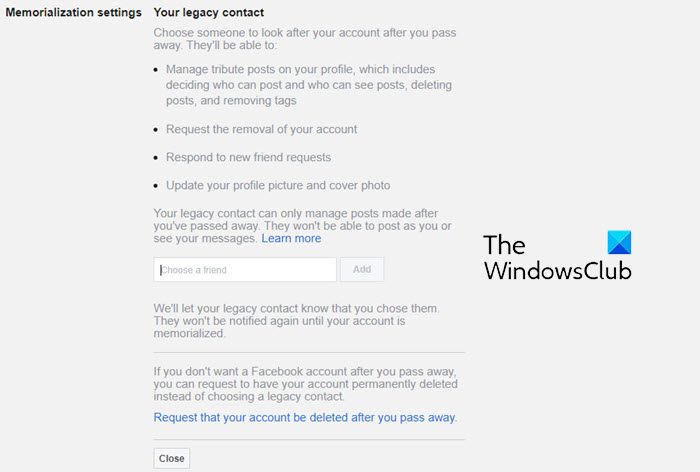 To add a legacy contact in Facebook:
Select Settings & Privacy, then click Settings.
Under General profile settings, you will see Your legacy contact
Click Memorialization Settings.
Type in a friend's name in Choose a friend and click Add.
This is where you can select an heir for your Facebook data. You can send them a message to inform them that you are selecting them as an heir, and they will have access to your Facebook page after you die.
You can also choose to delete your account after your death. Facebook also offers an option of memorializing a Facebook page where family and friends can leave messages of remembrance. However, one needs to provide proof of death to memorialize the account.
Now Read: Digital Assets Management: What Happens To Your Online Accounts After You Die.