One of the most used software nowadays are Password Managers. They are quite helpful and they can handle your private information very safely. Enpass is one such which is available for each and every platform you can think of, let it be Windows, Mac, Linux, Android or iOS – Enpass is available for all of them. It features an amazing synchronization engine, that lets you synchronize your information on the cloud space provider, of your choice.
Enpass

Password Manager for Windows PC
Once you've installed and started Enpass, you will be able to experience the gracefully aligned UI which is at the same point easiest to use. You can save your data in any of the following categories:
Login: Under this category, you can store all your information related to website credentials. Nowadays we use a variety of websites and remembering the password for all of them is really a tough job so you can use this category to store all your credentials. For each account you create, you can set an icon, a username, password, login URL, email, and phone and add some notes. Icons are pre-loaded so you need not look for icons on the internet.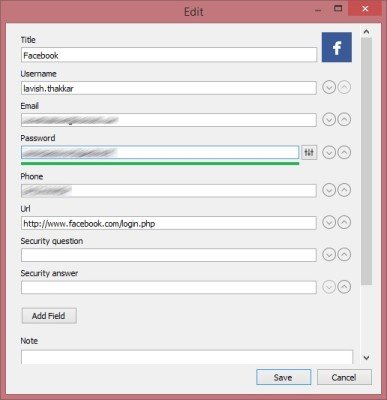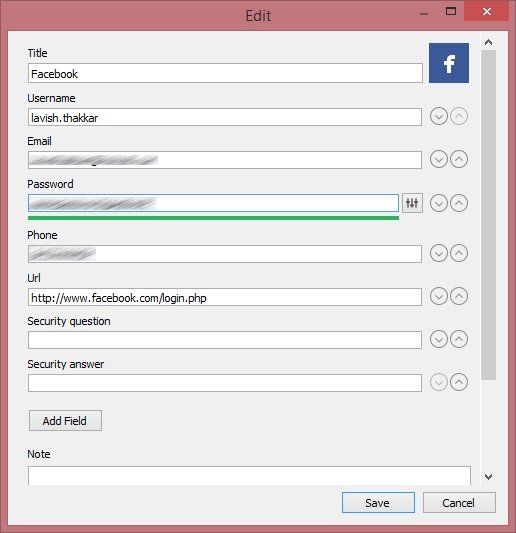 Credit Card: As the name suggests, this category can keep hold of all your credit card-related information like the Cardholder's name, CVC, pin, expiry date, limit and etc.
Finance: This category comprises further six subcategories related to daily finance. Some of them are Bank Accounts, Loans, Mutual Funds, Stock Investments, Insurance policies and etc.
Computer: This category can take care of your computer-related information like Email Accounts, FTP accounts, Web Hosting and etc.
License: Can store information about any of your licenses, for e.g. a driving license or a software license.
Password: Just to create a record about a username and password, may belong to anything.
Secure Note: You can make a secure piece of text under this category. This comes in handy when your information doesn't fit in any of the other categories.
Travel: This category handles all your travel-related information like passport, flight details, hotel reservations and etc.
Miscellaneous: Now this category is really fun. It can just store anything like an address, contact, PAN no., Library Card, Vehicle Number, Lens Prescription and what not. Still, if your information doesn't fit into any of the categories then you can create an 'Other Miscellaneous' record in which you can create your own fields.
Enpass supports the Import/Export of data, and moreover, the sync engine is the best. You can use the cloud space of your choice. Currently, Enpass can load data to and from Google Drive, OneDrive, Box, Folder, and DropBox. You can enable sync from the Settings itself. Enpass comes with an inbuilt password generator that can generate tough pronounceable and non-pronounceable passwords as per the user's requirement.
Overall, the software is well built, nicely designed, and comes with some great features, but the only thing it lacks is automatic catching of the username and passwords from browsers and the automatic login functionality, but I expect these updates from the developers soon.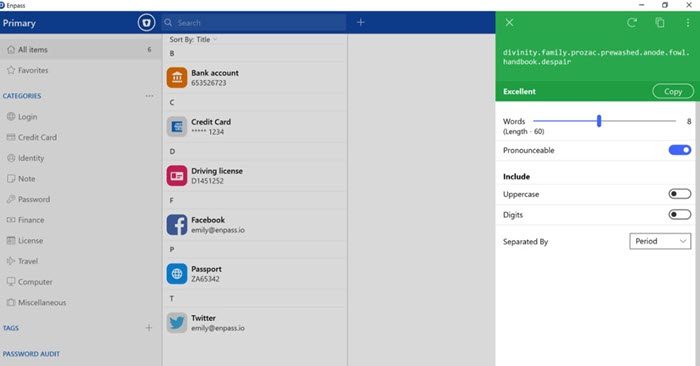 Enpass is free for Windows PC, but the mobile applications are paid. The Enpass Lite subscription (priced at $0) is the best way to get started with password management. The free plan allows you full access on desktop – Windows, Mac OS, Linux – while you're limited to 25 items on mobile – Android, iOS. This is a great plan for desktop-only users.
Enpass Password Manager for Windows 11/10 PC is available in the Microsoft Store.
Our PassBox is another basic password manager & generator that you may want to check out.