Do you need to improve the readability of your web pages? Any virtual document or site is more readable and gains more audience when it has a better color contrast. Microsoft Edge has come up with an innovative idea of manually fictionalizing the high contrast mode of your web page. This feature optimizes text legibility and improves readability. This article will illustrate, how to enable Enhanced text contrast in Microsoft Edge.
High contrast setting starts with selecting colors for the element and sets the scope. The prepared scheme can be added to other applications' contents and interfaces. The "high contrast" does not mean that you cannot set up low contrast levels. The colors and level of contrast can be selected manually as per one's choice and requirement.
This feature is currently available in Canary versions, but it will be rolled out to Edge Stable soon.
Enable Text Contrast to improve Font Rendering in Edge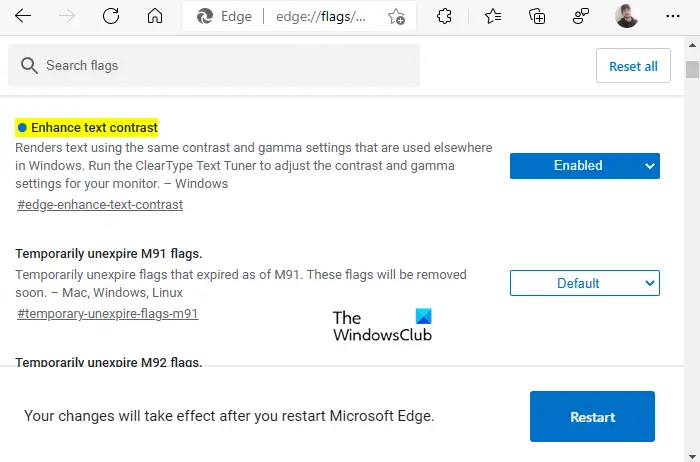 The enhanced text contrast feature of Microsoft can be used for creating supreme visual effects of the web page. It helps reducing eye strain and is suitable for migraine conditions as well.
To enable Enhanced text contrast in Microsoft edge, use the following procedure –
Open the Microsoft Edge browser.
Go to the address bar and type the following text and press Enter – edge://flags/#edge-enhance-text-contrast.
Next to the highlighted flag labeled Enhance text contrast
Click on the drop-down menu and select the Enabled option.
Now click on the Restart button to take the effect.
Let's now see them in details:
To get it started, open the latest version of the Microsoft Edge browser.
Go to the address bar, copy and paste the below the text line and then hit Enter:
edge://flags/#edge-enhance-text-contrast 
This will open a new window on the computer screen with an option of Enhanced text contrast. Now click on the drop-down menu next to the Enhanced text contrast to enable the hide bar option and switch it to Enabled.
Now it's time to restart your browser so that the changes will take effect. After restarting you will find a new setting in your browser through which you can make changes accordingly. It is necessary to note that any change in the contrast settings requires a browser restart.
You will see that the feature decreases visual noise and increase focus on your work. The application easily gets integrated with your system and optimizes the chosen theme with your user interface. It makes the context more visible & attractive by decreasing the text complexity. It also decreases the visual noise and increases the focus.
That's it.