Downloading videos from YouTube is a simple task once the right tools are in your possession. These tools are available in the Microsoft Store and on the web, so you won't have any difficulties locating the right one for your needs. However, if you're hoping to download an entire playlist, then we wouldn't recommend selecting any option on the web at all. One should always choose the best, and with that in mind, we have decided to talk about a few of the must-have YouTube playlist downloaders.
Free tools to download entire YouTube playlist videos
All tools were going to talk about today are free to download and use at the time of writing. They are some of the best available on the web today, so we suggest testing them all in a bid to find the one that works the best for your specific needs.
WinX YouTube Downloader
Free YouTube Download
4K Video Downloader
Any Video Converter
Let us take a quick look at them.
1] WinX YouTube Downloader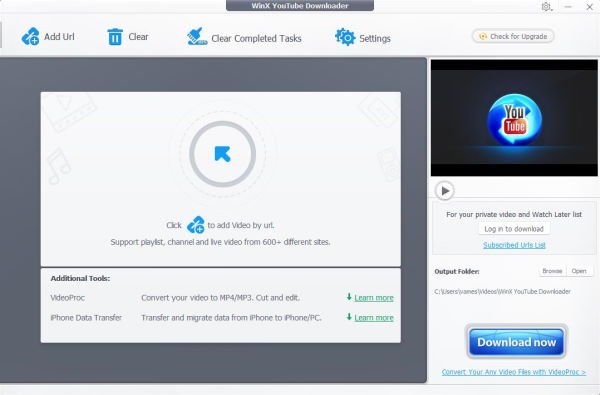 When it comes down to using WinX YouTube Downloader, just bear in mind you are getting a tool that is not only designed for YouTube, but for 30 other websites, which includes the likes of Facebook, Dailymotion, Vimeo, etc.
The option is there to download any video and playlist by simply copying and pasting the URL link into the downloader. From there, choose where you want the videos to go on your hard drive, and move on to the download aspect.
Additionally, this program is great for downloading 4K videos, so if you have a 4K screen, then we suggest giving WinX a test run.
2] Free YouTube Download
Yes, that is exactly what the name suggests, so don't get it twisted at all. What we have here is a program for YouTube users to download any video and playlists for free with just a few clicks of their mouse. It's quite impressive really, which is one of the reasons why it's so popular among fans.
Just copy the URL, paste it into the app, and begin the download. All of this takes a matter of seconds to get done, but that's not all. Users can choose between multiple video formats, and even convert videos to MP3 audio if they wish.
Unfortunately, we have one major problem with Free YouTube Download. You see, it will not download videos more than three minutes long.
Download Free YouTube Download from the official website.
3] 4K Video Downloader
This is likely the most popular app for downloading videos, well, as far as we can tell at least. What's interesting about this tool is the fact that it comes with no adware or anything of the sort. Furthermore, folks can do more than just download 4K videos from YouTube.
Options are there the convert videos and entire playlists into different video or audio formats. Not to mention, it supports 360 and 3D videos as well, so if you're into those types of gimmicks, then have a blast at it.
Please bear in mind that despite the name, you can download videos below 4K.
Download 4K Video Downloader from the official website.
Read: How to download Subtitles from YouTube videos.
4] Any Video Converter
If you're the type of person who just wants to jump in and get things done without ever having to play around with a particular tool, then Any Video Converter is right up your alley, old chap. It's quite different from the others on this, and that's because it comes with the options to add simple effects to videos.
These effects are merely texts and colors, but they do come in-handly if you are interested in using a video for presentations. And as expected, you can use the program to download entire YouTube playlists.
Be warned that during the installation process, it will attempt to download and install the ByteFense and Yahoo programs. Chances are, you may have no use for those, so uncheck the box before going any further.
Read: How to download videos online from Twitter, YouTube, Vimeo, Facebook.
If you know of any other YouTube program that allows for the download of playlists for free, then please share in the comments.