Changing your wallpaper is a quick yet energizing way to boost your mood and productivity with a personalized touch. Although, The latest windows come with plenty of fresh wallpapers. You can choose them from the Windows wallpaper library. However, that, too, gets boring and repetitive after some time. In that case, downloading new and refreshing wallpapers helps.
Nowadays high, resolution displays have replaced CRT monitors. Thus, using a high-resolution wallpaper becomes necessary; most displays nowadays are FHD or 4K. Many websites have HD and 4K wallpapers, but which is the best? We have listed a few websites which come with the best wallpapers.
What size of wallpaper does Windows support?
Wallpaper size depends on its resolution and dimensions. Thus, each wallpaper has a different size. There are several wallpaper sizes, 1920×1080 pixels: FHD, 2560×1440 pixels: QHD, 3840×2160 pixels: 4k. 1280×720 pixels: HD and 1600×900 pixels: Semi FHD. However, the preferred size is 1920×1080pixels, with an aspect ratio of 16:9.
Best Sites to Download 4K/ULTRA HD Wallpaper on Windows PC
There are countless websites available on the internet which offer high-resolution wallpapers, which makes it challenging to choose. Well, we have listed some safe and easy-to-use websites.
DeviantArt Wallpaper
InterfaceLIFT
Wallhaven
Alpha Coders
Desktop Nexus
Let's check out their features!
1] DeviantArt Wallpaper
How about a website that allows you to have 4k wallpaper packs? If you are looking for such a website, DeviantArt Wallpaper must be the one for you.
DeviantArt Wallpaper lets you download wallpaper packs. Moreover, all the wallpapers come in multiple sizes, which helps you download the best ones.
 Pros
No watermark
Wallpapers directly from the creators
4k wallpaper packs
Cons
A paid version is required for profile customization
Limited options available
2] InterfaceLIFT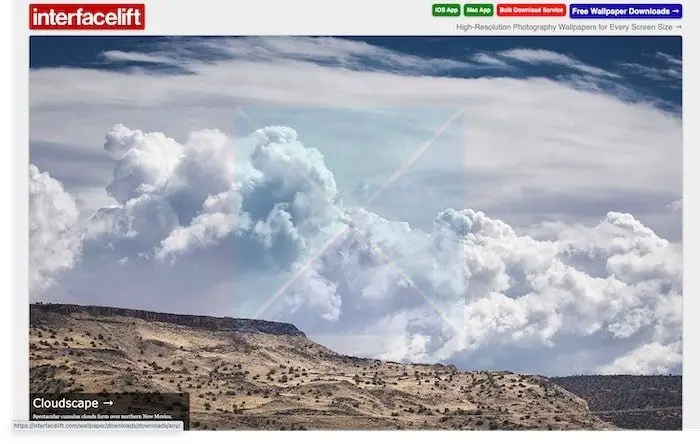 How about a website that automatically detects your screen resolution and recommends high-resolution wallpapers according to it? Well, InterfaceLIFT does it all.
Most people are unaware of their screen resolution, which makes it challenging to choose the correct wallpaper. InterfaceLIFT automatically detects your screen resolution and shows you the best wallpapers.
Pros
Gives wallpaper info
Minimalist interface
Plenty of resolutions are available
Cons
Recurring ads
Less variety
3] Wallhaven
Are you also searching for distinctive and minimalistic wallpapers? Walllhaven offers you some high-quality wallpapers. Wallhaven's brilliant web design makes the user experience top-notch.
When you visit Wallhaven, the search bar automatically gets activated. You can also upload an image on the website to find similar-looking wallpapers. Moreover, you can upload your custom wallpapers if you are a content creator.
Pros
Plenty of wallpapers
Upload a picture to find similar wallpapers
Various categories to filter wallpapers
Cons
Complicated interface
Fewer 4k wallpapers
4] Alpha Coders
Are you looking for only 4k or high-resolution wallpapers? Alpha Coder must be the one. Alpha coders is another free and easy-to-use platform offering magnificent and unique wallpapers.
Alpha Coders have categorized their wallpapers into three sections, popular, newly added, and highest rated. Alpha Coders stands out from other wallpaper websites because it offers UltraHD 4k Wallpapers, Retina 5k Wallpapers, and even UltraHD 8k Wallpapers.
Pros
The resolution tab lets you search by resolution
Wallpaper info
Crop to your screen resolution
Cons
Complex interface
Recurring ads
5] Desktop Nexus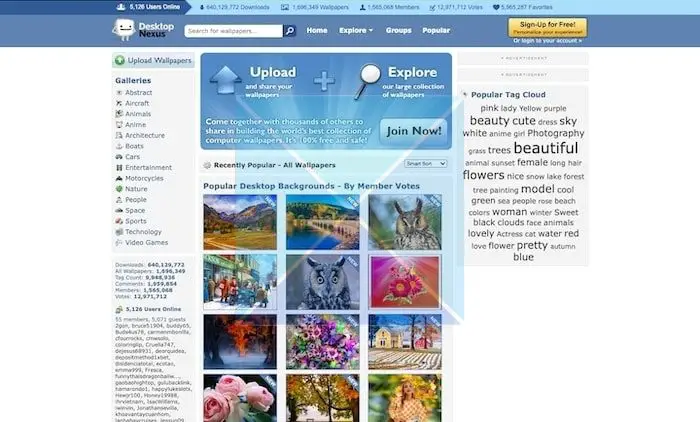 Are you looking for a minimalist and easy-to-use website to download 4k/Ultra HD wallpapers for your device? Then do check out Desktop Nexus.
The user interface of Desktop Nexus feels welcoming. The website makes you feel overwhelmed by its unique wallpapers. You can search for wallpapers by tags and categories such as space, abstract, mountains, etc. Desktop Nexus allows you to upload wallpapers if you are a creator.
Pros
Multiple categories
Plenty of digital wallpapers
Wallpaper info
Cons
Dull interface
Multiple ads
We hope you find the right website to download 4k/Ultra HD wallpapers. All of the websites mentioned above, DeviantArt Wallpaper, InterfaceLIFT, Wallhaven, Alpha Coders, and Desktop Nexus, are free to use with a user-friendly interface. Moreover, they have many other features that help you find the perfect wallpaper for your Windows device.
How do I set HD or 4K wallpaper in Windows?
The easiest way to set it as wallpaper is to select the image, right-click on it, and then choose the Set as background image from the context menu. To customize further, go to Windows Settings > Personalization > Background > and choose between fill, fit, stretch, tile, center, and span options. If the wallpaper is too wide or doesn't fit well, you can change them using this setting. Additionally, since Windows has multiple desktops, you can have a different wallpaper for each.