Microsoft Edge brings a Web Capture feature using which you can capture a selected area of a webpage or capture a full webpage by taking a scrolling screenshot and save it as a JPEG image. Though the feature is good, many users use other screenshot capture tools or prefer third-party extensions. If you also don't use this feature and want to disable Web Capture in Microsoft Edge, then this post is helpful.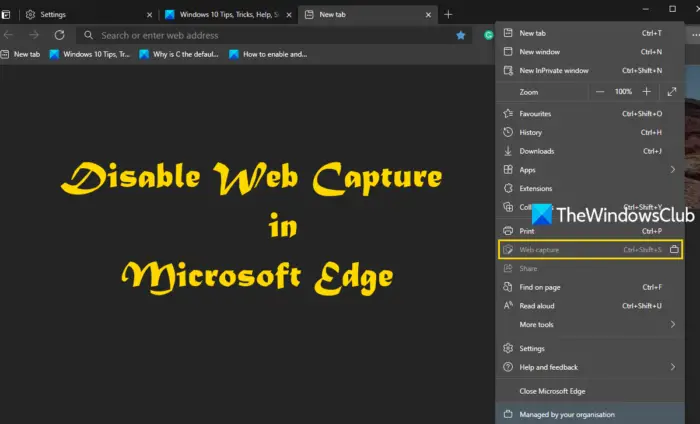 You can take the help of the Registry Editor of Windows 11/10 to completely disable Web Capture. Once the Web Capture feature is disabled, its option present in Settings and more will be greyed out. Also, neither its hotkey (Ctrl+Shift+S) will work nor the option to Show web capture button present under Settings will work. Later, you can also enable it anytime.
Disable Web Capture in Edge
Before starting, it is good to backup Registry, so that when something goes wrong, you can restore it. After that, follow these steps:
Open Registry Editor window
Access Microsoft Registry key
Create a new Edge key
Create WebCaptureEnabled DWORD value.
Click on the Search box of Windows 11/10, type regedit there, and press the Enter key. This will launch or open the Registry Editor window.
Access the Microsoft Registry key. Here is its path:
HKEY_LOCAL_MACHINE\SOFTWARE\Policies\Microsoft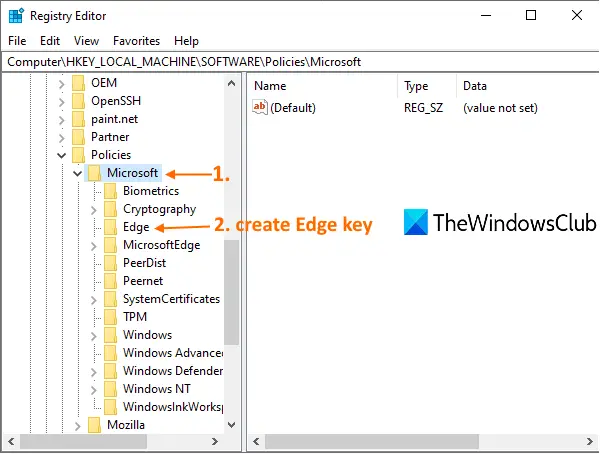 Under that key, create a new Edge key. For that, right-click on the Microsoft key, use the New menu, and click on the Key option. After creating the new key, set its name to Edge.
Once the Edge key is created, select that key, right-click on an empty area on the right-section, access the New menu, and click on the DWORD (32-bit) Value option. This will create a new value. Just rename it to WebCaptureEnabled value.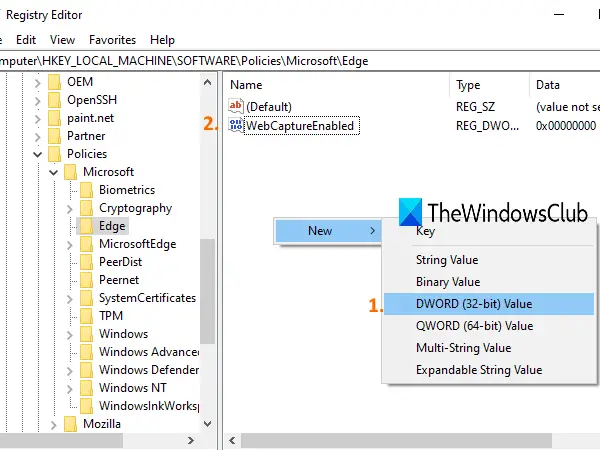 Now restart Edge browser or close it and re-open if it is already opened. You will notice that Web Capture is not working anymore. It is disabled.
To enable Web Capture in Edge browser again, use the above steps and then delete the WebCaptureEnabled DWORD value.
I hope you find it helpful.