Windows 11/10 has brought several new features and enhanced a couple of old features. Microsoft previously introduced the Share menu that used to pop up on the right-hand side. However, now you can find a dedicated Share button in different apps such as Microsoft Edge. This Share menu shows various apps installed on your computer as well as some which you can use without installation. Apart from this, you can find some app links as a suggestion. If you find no use for this feature and would like to disable the Share App suggestions, you can do so easily.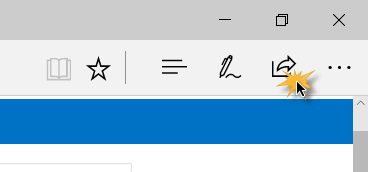 Disable Share App suggestions in Windows 11/10
Some people love the app suggestions in the Share menu since it lets them download more useful apps. For instance, if you go to share a web page link using Microsoft Edge browser, you will find some apps like Twitter, Mail, OneNote along with some suggestions like Dropbox, LINE, etc.
When you click on the Install button, it will redirect you to the Windows Store so that you can download them to your machine. While some people like this feature, there some, who may not like it at all because it creates a mess in the share menu.
The simple solution of removing Share suggestions is to uninstall the corresponding app. For example, if you do not want OneNote, you can uninstall the OneNote app from your Windows 10 machine. However, that is probably not the best solution since it doesn't remove the "suggestions" at all and you may not want to save a link in OneNote – but you want to use OneNote for other purposes. Therefore, you can open the Share menu pane, right-click on the space, and remove the tick from
So the better option is to simply disable all the Share suggestions. To do this, all you need to do is click on the Share button to open the Share menu pane, right-click in an empty space, and remove the mark from Show app suggestions option.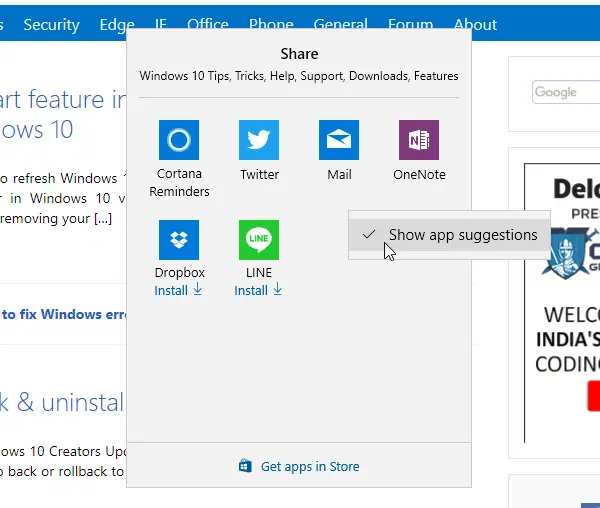 It will disable Share App suggestions in Windows Share menu. This is as simple as said.
You can use the Registry editor to do this.
Open the Registry Editor and navigate to the following path:
HKEY_CURRENT_USER > Control Panel
On the right-hand side, create a new DWORD (32-bit) value and name it as EnableShareSettings. Give it a value to 1 and exit.
Your Share App suggestions will be removed from the Share menu.