Microsoft Edge comes with some really good features like accent colors, a two-page layout for PDF files, security features, and a lot more. Hardware Media Key Handling is one of the built-in features of Edge browser. When this feature is enabled in Microsoft Edge, then users are able to use the media keys of the keyboard to play, pause, forward, previous, increase or decrease volume, mute music, or video playing in Edge browser. While some users find it useful, others don't want to use this feature. This post will show you how to turn on or off Hardware Media Key Handling in Edge on Windows 10.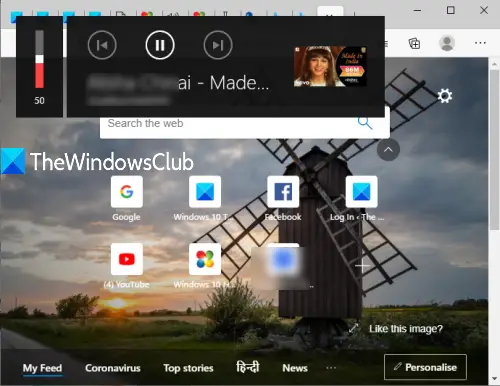 Users can control media playback in Edge browser from the background using media keys with the help of this feature. There is no need to access Microsoft Edge and go to that particular tab where music/video is playing to control the media. This feature remains enabled by default. If it is not useful for you and you want to disable this feature, then you do this with some simple steps covered in this post. You can also enable this feature again anytime.
Disable Hardware Media Key Handling in Edge browser
Here are the steps to disable Hardware Media Key Handling:
Launch Microsoft Edge
Open Edge Flags page
Search Hardware Media Key Handling experimental feature
Use Disabled option
Restart Microsoft Edge.
Launch the Edge browser using the Search box, desktop shortcut, or Start menu.
Now open the flags page of Microsoft Edge. For that, type about://flags or edge://flags in Microsoft Edge's address bar, and then press the Enter key. If the flags page is disabled, then you need to enable it first.
You will see the list of all experimental features. Use the search box to find the Hardware Media Key Handling feature. For that feature, you will see a drop-down box. Click on that box and select the Disabled option.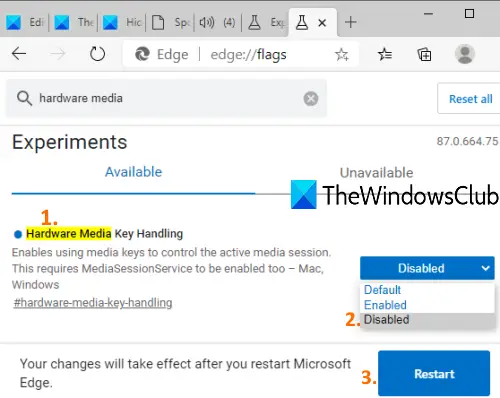 Finally, press the Restart button to apply the changes. This will disable or turn off the Hardware Media Key Handling option in the Edge browser. Now media keys won't work to control media playing in Microsoft Edge.
To turn on or enable this feature again, follow the above steps, select the Default or Enabled option for the Hardware Media Key Handling feature, and re-launch the Edge browser. Now you can use this feature again.
Hope this will be helpful.