In this post, we will help you enable or disable Guest Mode in Microsoft Edge. You can do this with the help of a registry tweak in Windows 10. This post covers all the steps. Later, you can also enable guest mode anytime.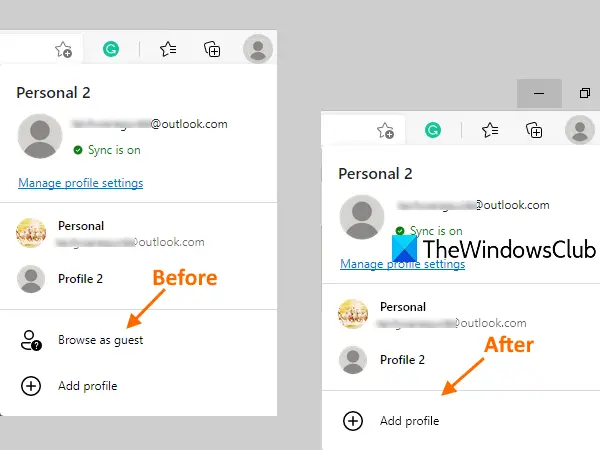 Microsoft Edge provides a handy feature to create multiple profiles for browsing, downloading, etc., and there is also an option to Browse as guest or create a guest profile. In a Guest Profile, all your browsing data (cookies, browsing history, download history, etc.) is deleted automatically as soon as you close all windows opened with a guest account. While some users find it useful, others don't use it. If you also find this feature not so useful, then you can simply disable it.
Disable Guest Mode in Microsoft Edge
As this is a Registry tweak, it is recommended to first backup Registry so that you can overcome any unwanted changes. After that, use these steps:
Open Registry Editor window
Access Edge key
Create BrowserGuestModeEnabled DWORD value under Edge key
Set its value data to 0 to disable the guest profile.
First of all, type regedit in the Search box and press Enter key to open Registry Editor. Or else, you can use other ways to open the Registry Editor window.
Access the Edge key. It is present under the Microsoft key. Here is the path:
HKEY_LOCAL_MACHINE\SOFTWARE\Policies\Microsoft\Edge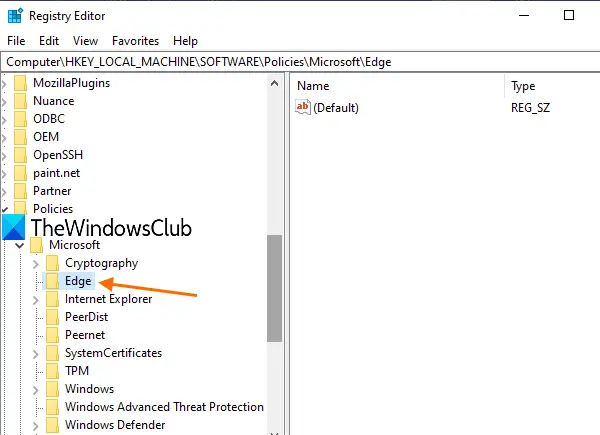 If the Edge key is not present for some reason, then you can create a new Registry key under Microsoft key, and name it Edge.
On the right-hand part of the Edge key, create a BrowserGuestModeEnabled value.
For this, right-click on an empty area, access the New menu and click on DWORD (32-bit) Value. When the new value is created, rename it to BrowserGuestModeEnabled.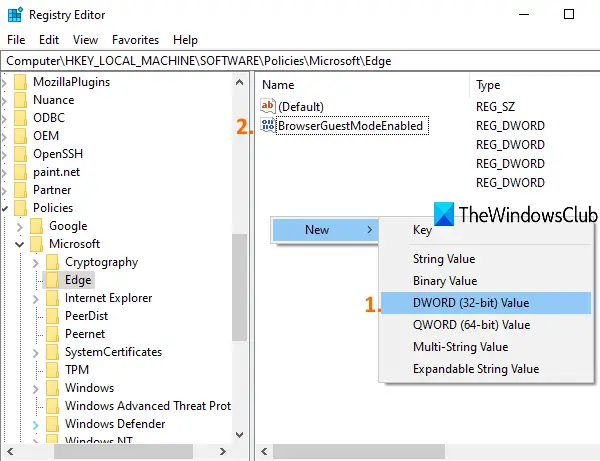 Double-click on the value you created and a small box will appear. There, add 0 in the Value data, and press OK.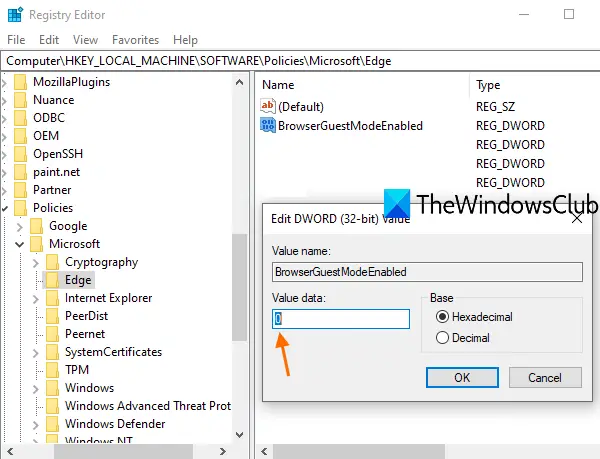 Now restart File Explorer. Also, you need to close Microsoft Edge and relaunch it if it is opened already.
You will see that the Guest profile option is removed.
To enable guest mode in Microsoft Edge again, simply delete BrowserGuestModeEnabled value or set 1 in its value data. Restart File Explorer and the guest profile option will be added again.
Hope this is helpful.