If you are a Mac user and use the Windows system for occasional work, you will find that Mac has some beautiful collection of fonts that are not available in Windows. Professional users like artists and web designers mostly switch between Mac OS and Windows for their work and would love the way the Mac renders the font.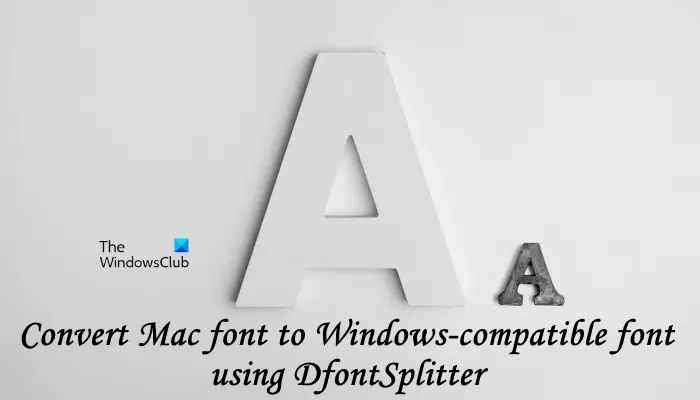 The MacOS has a good collection of fonts that are nice, smoother, easier, and optimized to read than the ones available in Windows. But unfortunately, you cannot use the Mac font in Windows as both Windows and Mac use different font rendering technology. However, Windows font is of True Type format (.ttf) which is supported in Mac. But vice versa is not true.
The Mac font is of .dfont type and Windows cannot directly read Mac True Type fonts like .dfonts. Windows can only read Windows Open Type and Windows TrueType fonts. To copy Mac font (.dfont) to Windows and use them in Windows, you have to use a third-party application to convert Mac fonts (.dfont) into Windows TrueType format(.ttf).
In this article, we explain how to convert Mac Font (.dfont) to Windows Compatible Font (.ttf) using an open-source application program called DfontSplitter.
Convert Mac font to Windows compatible font
DfontSplitter is a free software that is suitable for Windows 11/10. The tool is available in 0.3,0.2 and 0.1 versions. The software provides a simple interface that enables the user to easily convert Mac formatted font (.dfont) into a Windows-compatible font (.ttf) file.
Convert Mac formatted font into Windows-compatible font
Download and install the DfontSplitter font converter software. Open it, and you will see the following interface.
Click Add files and then browse for Mac formatted font (.dfont) files that you want to convert into a Windows-compatible TrueType(.ttf)  font file.
Choose the destination folder where you want to save the converted file.
Click the Convert button.
Once done, you will see the converted files in the destination folder.
DfontSplitter free download
You can download the freeware DfontSplitter from its homepage.
Can you convert OTF fonts to TTF?
Yes, you can convert OTF fonts to TTF. For this, you have to use font converter software. Many free online font converter tools are available that let you convert OTF fonts to TTF fonts for free. Visit the OTF to TTF converter website(s), upload the OTF font file, and hit the Convert button.
Does Apple use OTF or TTF?
Apple comes with many built-in fonts. However, if you require more fonts, you can install them on your Mac. Mac supports a variety of font formats, including TrueType (.ttf), Variable TrueType (.ttf), TrueType Collection (.ttc), OpenType (.otf), and OpenType Collection (.ttc) fonts.
Related read: How to get Mac-like smooth fonts on Windows 11/10.