Are you still stuck in the age of burning content to discs? That's fine because you're not alone, but your numbers are dwindling with ease passing year. Now, if you have an interest in creating AVCHD discs from Blu-Ray or HD MKV files – since Blu-Ray files are large, you'll need a software that compresses these files to a smaller number for them to fix on a regular DVD5 and DVD9 disc. With this in mind, we would like to recommend BDtoAVCHD.
Convert Blu-Ray to BD5/BD9/BD25/MKV
We like the idea behind AVCHD because it's a format designed to incorporate all content on a Blu-Ray disc for playback on regular DVD. This is where the compression tool comes into play, and from what we've seen, it does a decent enough job. Bear in mind that compression is not perfect, so if you have a 4K movie on a Blu-Ray disc, it will get transformed down to 1080p. Furthermore, folks can use this platform to backup content from a Blu-Ray disc, but in a much smaller form.
Create AVCHD discs from Blu-Ray or MKV files
BDtoAVCHD will allow you to convert Blu-Ray files to BD5/BD9/BD25/MKV formats. You can create AVCHD discs from Blu-Ray or MKV files. This tool is not for everyone since most folks have accepted the digital revolution. However, the people who choose to continue using physical media will get a lot of use out of BDtoAVCHD.
1] Open Video File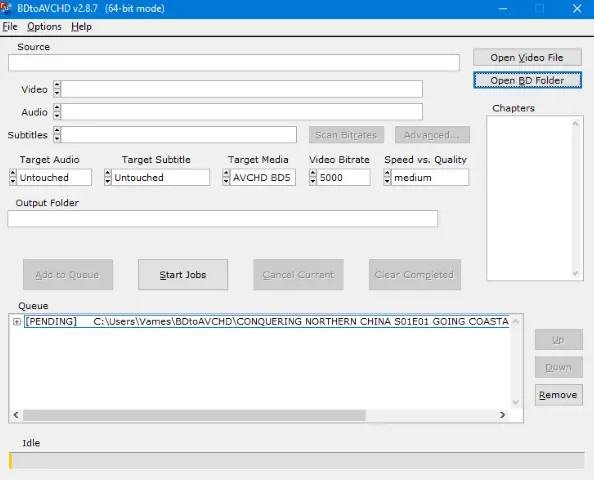 To get started, the user must first open a video file directly from the app. This can be done by clicking on the big button that says Open Video File, or click on the File tab then select Open Video file.
2] Edits
Now, before making any moves to burn, you may want to make a few edits right away. You see, changes can be made to the Target Audio, Target Subtitle, Target Media, Video Bitrate, and more.
The program may even automatically change the video bitrate at times, but worry not because it's all good.
3] Begin the burning process
OK, so the next step is to add the video to the queue and kick start the process right away. Adding to the queue requires the clicking of the button that says Add to Queue. After doing that, click on Start Job, and the process will begin right away.
The completion speed depends heavily on the size of the file and the speed of your computer system.
3] Options
When it comes down to the Options tab, the user can choose to have the system play a sound after a job has finished. Not to mention, users can scrape movie titles in IMDb, and that's slick if you ask us.
4] Settings
This is where all the goodies are hiding, just in case you've been wondering. The user can make several changes here, more than we had expected at first. From here, folks can change the Temp and Output folder locations.
Additionally, changing the audio and subtitle languages are possible here as well, among other things.
Download BDtoAVCHD for Windows 10
You can download the tool directly from the official website.