There may come a time when you may need to contact YouTube Support. It could be if you are not able to connect your YouTube Channel to your Adsense account, or for any other reason. The YouTube Help articles are good and they usually end up resolving issues – but if you have tried to contact YouTube, then you may found yourself going around in circles and landing back on the same links. Unlike contacting AdSense, I found contacting YouTube a bit difficult.
How to contact YouTube support
If you want to get in touch with YouTube, you can do so via this link, the Support Forum, etc.
Seek support via the YouTube Forum
Contact via YouTube Twitter page
Contact via YouTube Facebook page
Contact YouTube Creator Help
Use their Send feedback option
Try this email ID.
Use their Contact YouTube page
Use their Contact Google page
Address or Fax.
1] Seek support via the YouTube Forum
You can seek support via the YouTube Forum. You will have other forum members answering questions and you can hope that YouTube notices your questions and spares time to answer your question.
2] Contact via YouTube Twitter page
You can contact YouTube and seek assistance via their @YouTube Twitter account. Folks from India can connect with @YouTubeIndia.
3] Contact via YouTube Facebook page
Their Facebook Page is another place you can try to get support.
4] Contact YouTube Creator Help
To be able to get support directly you need to be a part of the YouTube Creator Program. Click on your user icon and select Help.
Next, click on Contact the YouTube Creator Support Team.
On the next screen, you will see the options to Chat or Email their support team member.
That's it!
4] Use their Send feedback option
If you are not a part of the program, you will see only the following options and your best bet would be to use the Send feedback link.
Sign in to youtube.com.
Select your profile picture.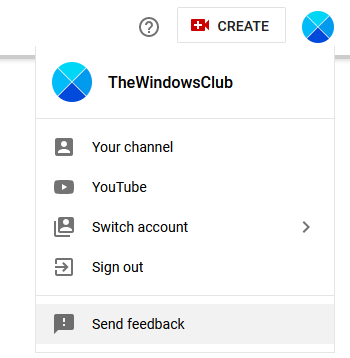 Click Send feedback.
Describe the issue you're experiencing
Attach a screenshot if you want to
Click Send.
5] Try this email ID
Folks from India can try this support email ID and see if you can elicit a response: [email protected]. Write YouTube Support in the subject line for the best results.
6] Use their Contact YouTube page
This link offers you multiple ways to contact YouTube for various reasons. It could be for Partner program details, Abuse, Security, privacy, legal, or any other issue.
7] Use their Contact Google page
This Google page also offers some links that can help you get in touch with Google and its products.
8] Address or Fax
You can also contact YouTube at the address below.
Google LLC, D/B/A YouTube
901 Cherry Ave.
San Bruno, CA 94066
USA
Fax: +1 650-253-0001.
My problem?
I have been trying to contact YouTube Support as I needed help. I have not been able to connect my YouTube account to my Adsense account. I have run online from pillar-to-post but failed to contact them. The best I have been able to do is Give feedback.
Now I can only pray, wait, and hope that the Google Gods respond to my Help request.
My YouTube account is now eligible for Monetization. As required, I clicked on the Monetization link on the left side, and then completed Step-1 and continued to Step-2 to Sign up for AdSense. I completed the verification, I selected my AdSense Gmail ID which is the same one that I am using for YouTube. But I receive an error-
Oops something went wrong, Error AS-10
OR
500. That's an error. There was an error. Please try again later. That's all we know.
These actually are server-side errors that many others are facing too. I am thus unable to link.
I hope you are luckier.