Colour Surprise is a freeware image editor that offers a speedy and cool way to randomize the colors in your photographs. It is a freeware that changes the color of your photograph randomly without altering the pixels, by making use of different color combinations. Simple to install and use, Colour Surprise supports most image formats like .jpg, .png, .gif, .tif, .pcx, .bmp and .tga, etc.
Colour Surprise for Windows PC
Start by loading the image you want to color edit. To load the image, click on the Open tab located at the top left corner of the Colour Surprise application window.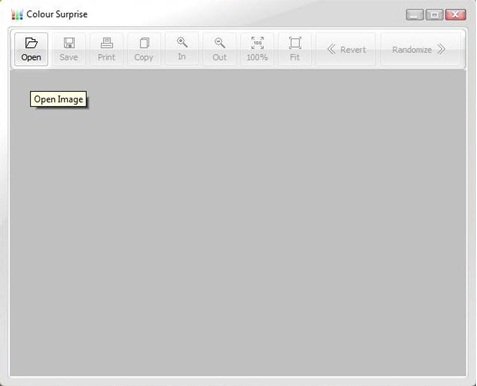 Once you load the image, you can then start randomizing its color by clicking on the randomize tab located at the top right corner of the application window.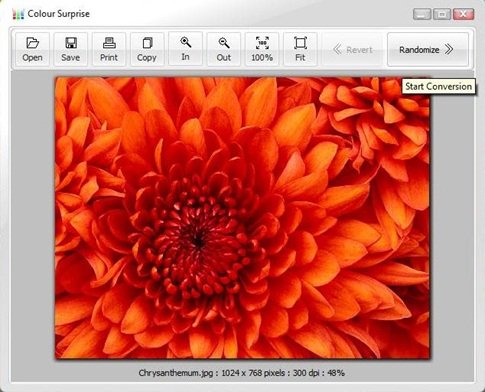 You can change the colour of the picture as many times as you want. The effects achieved will leave you spellbound with amazing color combinations, however in case you still would like to go back to the original color you can simply click on the Revert tab and you will get the original color of the image.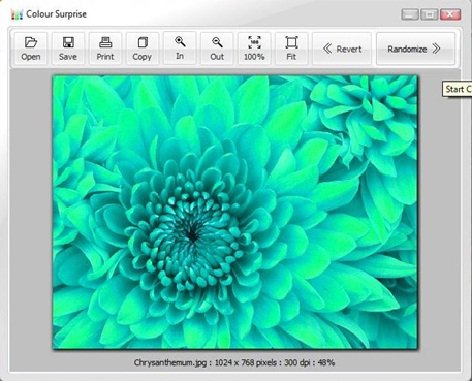 While Colour Surprise is a great tool that surprises you with great color randomization, there are other useful features as well that you get with this useful freeware.
Customize your pic with Print Option
The Print tab in the Color Surprise allows you to make several changes like
Changing the margins
Changing the Position of the image
Customize the size of the image
Gamma correction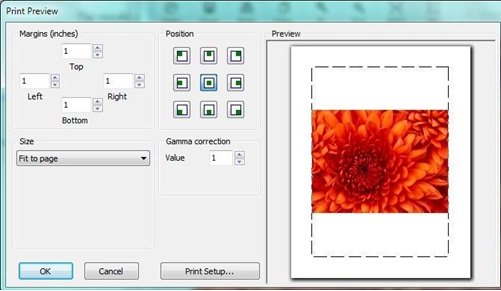 Use Right-click for other useful functions
This freeware image editor also has features that allow you to rotate the image 90 degrees left and right and 180 Degrees respectively. Also flipping the image horizontally / vertically is possible using this freeware. However just remember to right click the image so that you don't miss these options.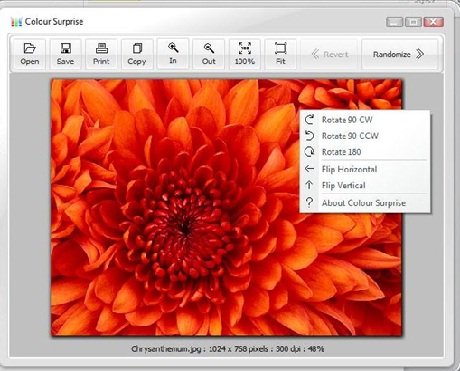 Colour Surprise is a simple freeware image editor that is very basic in its functioning. It offers creative randomization of color with different variations and creates interesting and fun effects. Added to that, it also has other useful functions. However please note that Colour Plus does not allow you to choose colors, they change randomly. Hence as a user, you must not compare this with other image editors which offer much more functions than this freeware. Use Colour Surplus just for fun and colors.
Colour Surprise works best with images that have plenty of different colors. You can download it from here.