Online co-authoring is a service using which you and your colleagues can work on the same document. Usually, the document auto-saves and the changes made by other co-authors are visible in a few seconds. It makes it easier to work on documents using cloud technology. Microsoft Office has enabled real-time collaboration, a feature that is seemingly quite successful in the market. It started with enabling co-authoring on Word's desktop version, and now, Live collaboration has been the major thrust of Microsoft Office. Rather, most users have completely shifted to online co-authoring instead of making and sharing documents through email.
Co-Author and Collaborate in Excel
In order to start with team collaboration and co-authoring using Excel, you could use the following steps:
1] Make sure that you have an up-to-date version of Windows and Office 365 subscriptions. You would be using these file formats: .xlsm, .xlsx, or .xlsb files. If you have a different format, you can change it, by opening the file, clicking on File > Save As> Browse> Save As Type, then changing the format to applicable types.
If you do not have a subscription, you could still collaborate by creating documents online by logging in to your personal OneDrive. However, the functionality is limited.
2] Create or upload a worksheet on SharePoint, OneDrive, or OneDrive for Business.
3] If you have chosen to upload a file, just click on the filename, and the workbook will open in a new browser.
4] Click on the Edit in Excel option. If you receive a prompt to choose a version of Excel, select Excel 2016.
5] Once the file opens and you see that it is still in Protected View, click on Enable Editing to be able to make changes to the file.
6] Click on the Share button found in the upper right corner of the window. In the Invite People box, type in the email addresses of your team members of the people you would want to collaborate with. Separate each email address with a semi-colon. Choose Can Edit and then proceed to click on the Share button.


7] The people whom you have shared the file with would receive an email with the link to the file and access to open it. To co-author, they need to click on Edit Workbook and then select Edit in Excel.
8] Once you open the file, you will see your invited collaborator's avatar or images in the upper right corner of the Excel window. They would usually appear either with their own saved picture, avatar, or in the letter G which means "guest" or the initials of their names if there are no chosen profile images. Your selections would be highlighted in green while other people's selections would be in other colors like blue, red, yellow, or violet.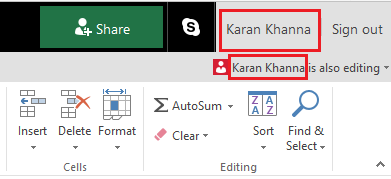 Once you click on the avatar, you will be routed to where the other person is currently working on the spreadsheet. His presence can be noticed by a blinking colored cursor. Now, you can edit the documents simultaneously with co-authoring on spreadsheets which in turn makes working on projects speedy and convenient.
Auto-save while co-authoring on MS Excel
Auto-save is a feature enabled by default on all documents meant for co-authoring, or otherwise on OneDrive. It saves the changes to the document in seconds, sometimes in a fraction of a second.
Selections of other users
Users using Microsoft Excel or Excel online would be able to see other users on a list on the top. The selections and text of the other users would be visible in different colors. Users who have other versions of MS Excel would not be able to use this feature.
"Refresh recommended" and "Upload failed" messages
If you get these error messages while auto-saving and the drafts are unsaved, you might consider copying the link on a different tab and pressing Enter. Remember to do this once you are sure the internet is connected.
Two users changing the same thing on the document
When two users change the same thing by auto-save or clicking on save, the latest change is saved. To make it easier, Excel online allows a comment section to discuss this among users. It works like a chat box.
Read next: Excel Tips & Tricks.
How do you remove co-authors in Excel?
Go to the File menu, and then click on Share. If you have already shared the document for co-authoring, the list of names will be available in it. Remove it, and the co-authors will be removed. It will make sure that the other person will not be able to edit the Excel file.
How can I edit an Excel file for free?
You can use OneDrive to edit Excel files online, but not on the desktop using Office. Also, online editing is limited in terms of features and functionality. If you need to edit the Excel file on your desktop, you will need to look at alternatives.