Microsoft Project is designed to simplify the task of project management. The service is equipped with some easy-to-use controls that allow you to assign tasks to team members easily, add scheduling, and track task due dates and timelines. In this post, we'll learn how to change your default PWA site for Project Home.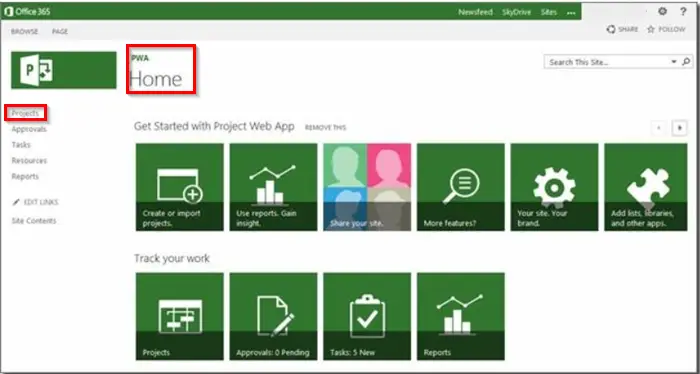 Project Home is a new user-centric landing page for Project Online. It main purpose is to enable project managers to quickly access their most recent and favorite projects. Project Web App or PWAs on the other hand, is part is a robust Web application that you can use to perform different tasks. These include:
Analyzing portfolios
Managing proposals
Entering time in a timesheet
Updating task status
Change default PWA site for Project Home
We know, some organizations tend to run more PWA sites. As such, they need more flexibility to manage several PWA sites. By changing the default PWA site to your preferred PWA site you can navigate more easily to desired Project Web App (PWA) sites from Project Home. Here's how to do it.
1] Choose default PWA site
Launch Microsoft Project by selecting 'Project' icon from the Office 365 app launcher (or waffle icon) in the top left-hand section of an Office 365 page.
Then, on the Office 365 navigation bar, select the 'Settings' icon, and then choose Default PWA site.
2] Change default PWA site
The 'Change default PWA site' dialog box should appear on your computer screen. Enter the address for the preferred PWA site and choose 'Change site' option. Here, make sure you enter a PWA site URL (not SharePoint site URL) and you have at least Read permission to that PWA site URL.

If you don't have the permission, and still try to change the default site, you'll see a red message bar near the top of the browser.
If you have already sought permission for the typed PWA URL, you will see a success message and your default PWA site will be changed to the new URL.
This is how you can change the default PWA site for Microsoft Project Home.
Source – Office Support.