This post will help you change font size for a Windows Terminal profile on Windows 10 computer. There are so many interesting Windows Terminal Tips and Tricks available that users find quite useful. One of such tips is to change the default font size. You can set the font size between 1 to 128 for any profile (like Command Prompt, PowerShell, etc.). The default font size set for a profile in Windows Terminal is 12. While some users find it satisfactory, others want to increase or decrease font size from time to time. If you also want to do that, this post covers some simple steps for that.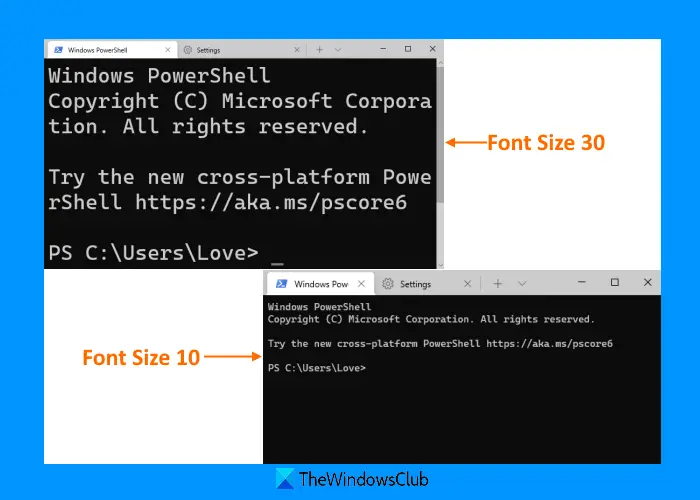 Apart from changing the font size, Windows Terminal also provides the feature to set font-weight. You will be able to set font-weight to Normal, Bold, Semi-Light, Thin, Extra-Light, Semi-Bold, Medium, Black, Extra-Black, Extra-Bold, or custom (between 0 to 1000). So, depending on the font size set by you, you can select a font-weight that will best fit that font size.
Change font size and font weight in Windows Terminal
To change the font size for a profile in Windows Terminal, you need to follow these steps:
Open Windows Terminal
Open Settings page
Select a Windows Terminal profile
Access the Appearance page for the selected profile
Set font size
Use the Save button.
First of all, use the Start menu or Search box to open the Windows Terminal app. It will open with the default profile set by you.
After this, open its Settings page. Use Ctrl+, hotkey to open it. Alternatively, you can simply click on the drop-down menu present on the top part and select the Settings option to open it.
Now you need to select a profile for which you want to change the font size. Use the Profiles section available on the left side and select a profile. After that, access the Appearance page using the right section.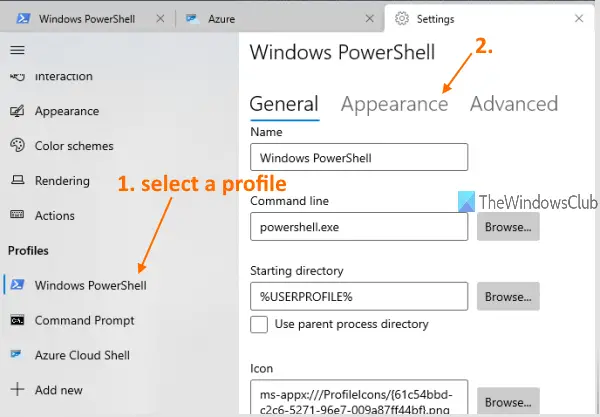 Finally, you can change the font size using the given option. The option to set font-weight is also there. Once the font size is changed, use the Save button.
Now access that Windows Terminal profile and you will see that font size is changed.
This post will help you if CTRL+ does not increase Font size in Windows Terminal.
Hope it helps.
Read next: How to change default profile in Windows Terminal.