Trying to log in to your computer or save files on Windows? But getting the Cached Credentials have expired error? Even if you have entered your credentials, the error remains. Well, it is one of the common issues Microsoft product users face.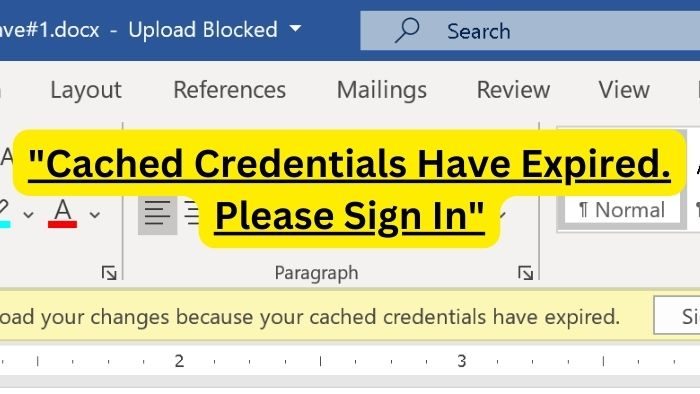 Cached credentials allow users to log in to a Windows device using their domain account even when not connected to the network. However, cached credentials do come with an expiration period. And once the cached credentials used for authentication have reached their expiration period, you may receive cached credentials have expired error.
But fixing the problem isn't hard as it may seem, and you can try the following methods.
Cached Credentials have expired, Please sign in
To fix this error, you need to clear the existing saved credentials. So they can no longer interfere with the sign-in process. To do so, you can try the following methods:
Clear Office Credentials from Windows Credentials Manager
Sign in to your Microsoft Account again
Relink OneDrive to Windows PC
You will need complete access to your Windows PC to execute some of these solutions.
1] Clear Office credentials from Windows Credentials Manager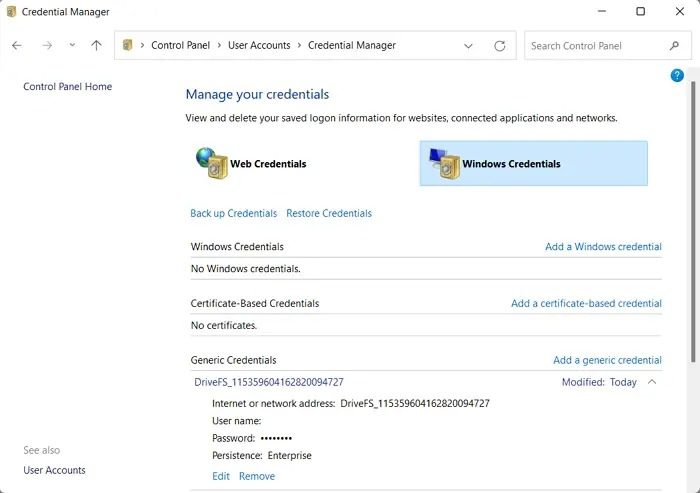 By re-entering your credentials, the error should get fixed. However, if you are stuck in a loop and it is repeatedly asking for the credentials, it means Windows is fetching the saved credentials and failing to use them for authentication.
To fix this, you must first clear the office credentials from the Windows Credentials Manager and reenter your login details.
For this, follow the below steps: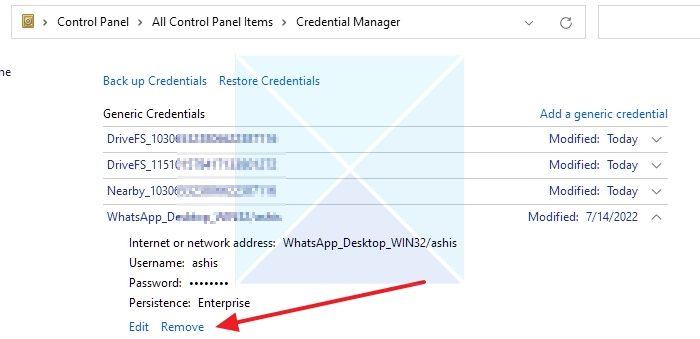 First, quit any Windows Office or other Microsoft 365 apps.
Next, go to Windows search and type Credential Manager and launch it.
Click on Windows credential to expand it.
Now Under Windows credentials, look for credentials related to the application for which you are getting the error.
Click on the credential and click on the Remove button.
Once done, go back to the app and try to log in again; it will ask you for login details. Enter the details, and you should no longer face any issues.
2] Sign in to your Microsoft Account again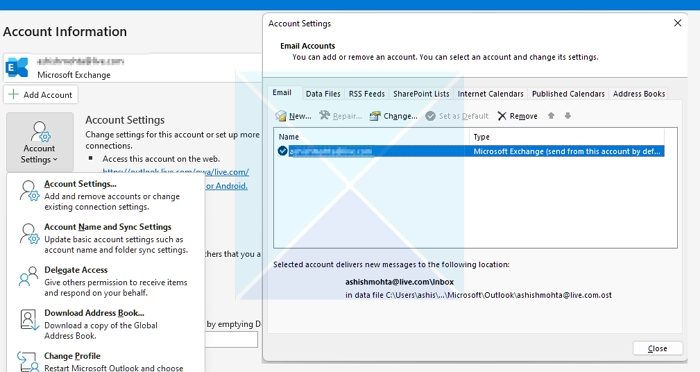 If you have issues with applications such as Outlook, an effortless way is to remove your account from the app and then add it again. Most applications allow you to add or remove accounts at will, which can be done for Outlook.
Depending on the version of Outlook, the steps may differ:
Open Outlook, and click on the File menu
Click Account Settings to open the menu
Again click on Account settings
It will open the settings box where all the listed accounts will be available
Select your account, and then click on Remove.
3] Relink OneDrive to Windows PC
If you face an issue with OneDrive, you can try relinking OneDrive. The app uses sync to share files between your computer and the cloud. As a result, it can help in refreshing the connection and credentials and help you fix the cached credentials that have expired error. So to disable/enable it follow the below steps:
Click on the cloud icon located in the system tray.
Next, click on the Gear icon and click on Settings.
Go to the Account tab from the sidebar.
Finally, click on Unlink this PC option to stop syncing
Once done, you must log in to your Microsoft account again to enable syncing.
Finally, check if it solved the issue or not.
Those were a few ways to fix cached credentials that have expired errors. Clearing your saved credentials from the Windows Credentials Manager should fix the issue for you. So go ahead and give it a try and see how it is working for you.
What Are My Cached Credentials?
In Windows, cached credentials refer to locally stored credentials used for authentication or login to a computer or network when the domain controller or the authentication server is unavailable. You can find all the cached credentials saved in Windows credential manager.
How Long Do Cached Credentials Last?
Typically, Cached credentials in Windows do not expire. However, the duration for which cached credentials can last depends on various factors, such as operating systems, specific configuration settings, and domain servers.