Webcams have become essential thanks to the improvement in Video communication services. While most of us are using it just for video calls, a lot can be done to make the experience even better. In this post, we are listing some of the best webcam software available for Windows 11, Windows 10, Windows 8.1, and Windows 7.
Best Webcam Software for Windows 11/10
Many of the listed software integrates with existing services, and you can use them parallel. Once installed, you will have to choose their virtual webcam. If not, you can always use them to make funny videos, and take pictures, and then share across social media. In this post, we take a look at:
ManyCam
YoCam7
Yawcam
Split Cam
Logitech Webcam Software.
Make sure to try each of them so you can figure out which works best for you.
1] ManyCam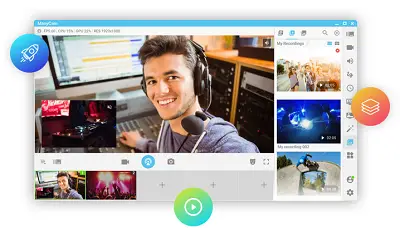 It's one of the best-known software out there because of the lits of features, and flexibility it offers. You can integrate the came source for Skype, YouTube, Game Capture feature, and so on. It also offers you to create a fake camera by streaming a video from your computer and broadcast it.
List of features:
Game Streaming
Multiple Video Sources
Desktop Screencasting
YouTube Integration
Multiple Channel Broadcasting
Picture In Picture
Green Screen
Lower Third
Mobile App
3D Masks & Effects
Draw &Text
Playlist
RTMP Stream
IP Camera
The Mobile App feature is very unique.  If you don't have a real webcam, you can use your phone. Since most mobile phones come with a great camera, it will be a great experience. Just connect your phone to the PC, and use your mobile phone as a video source with ManyCam's Mobile source app. You can record live videos, stream directly to ManyCam using your phone, or use your phone directly as a live source while you're on the air.
The app is available for free for public usage, and also offers Enterprise and Pro versions, with even more features. You can download it from here.
2] YoCam7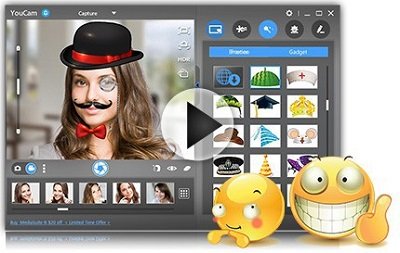 If Mycam already looks impressive, you will fall in love with CyberLink's YouCam 7. You can use it for video recording, capturing images, and also use it as video surveillance software. They offer a free version and a paid version.
It lets you edit webcam photos with cool effects like photo frames and color presets. While most of the effects are free, more can be found with their premium version. It also includes a surveillance mode.
Along with the free version, which lasts for 30 days, you can try the following features:
Real-time skin smoother for video
HDR and Panorama mode for photos
TrueTheater smart video enhancements
Face beautifying tools to touch up self-portraits
Enhanced desktop recording
3DS Augmented reality objects
Download it from here.
3] Yawcam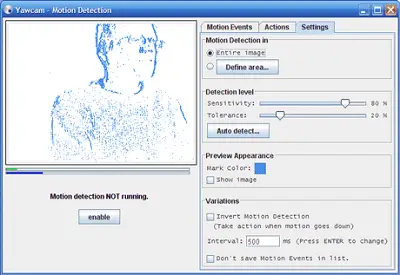 Being free doesn't mean that it cannot offer features, and compete with paid software. Yawcam is one such example. It offers
Video streaming
Image snapshots
Built-in webserver
Motion detection
Ftp-upload
Text and image overlays
Password protection
Online announcements for communities
Scheduler for online time
Time-lapse movies
Run as a Windows service
Multi-languages.
Two of these features I liked personally are having an inbuilt web server and streaming videos in real-time. You can also use the Time-Laps to capture stunning moments if you don't want to engage your phone with it. Quality will depend on webcam quality.
Download Yawcam for free from here.
4] Split Cam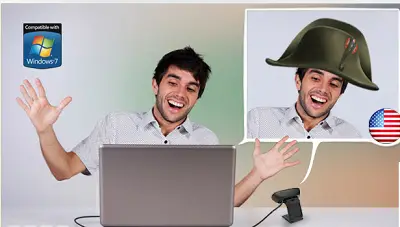 This program differentiates itself from all of the above by offering you to use its services with multiple clients. So if you have friends on Skype and any other service, you can stream the same thing on both of them. This is usually not possible if the camera is already engaged with other services.
List of features:
Cool webcam effects software
Video splitting to several programs
Realistic 3D Masks
All popular services are supported.
Streaming to popular services like  Livestream, Ustream, Justin.tv, TinyChat, and more.
HD video broadcast and many video resolutions support
You can also stream video files using it.
You can use it as an IP camera. Just connect it to any IP camera service, and send it as a video source.
Record your video without special professional software and upload it to the YouTubeZoom video feature
Zoom your video, and make sure you are not streaming everything, and control it with the keyboard.
5] Logitech Webcam Software
Logitech is the top choice when selecting a webcam, and the company does offer software to do some basic things. Chances are that you will find it with the disc it came along with it, but if now, you can always search their website for the software that's compatible with your type.
While it doesn't offer any fancy features, it lets you optimize it for your usage. You can capture images, stream videos, adjust the camera's sensitivity or some of them also offer to enable motion detection. You can use it in surveillance mode to keep track of what's happening at your house when you are not here. You can download Logitech Webcam Software from this link.
Does Windows have webcam software?
Windows comes with a camera app that you can use to record video and take photos. While it is not much use as it lacks integration with apps and software, it is an excellent way to check if the camera is working as expected. You can also flip between the front and rear camera when needed.
How do I test my webcam on Windows?
It is a broad question as it signifies many things. If you want only to check if the camera is in working condition, you can use the built-in camera app in Windows. However, if you want to check if the camera app is working in apps like Microsoft Teams, Zoom, or any other app, you need to check that app's settings. There should be a dedicated Camera or Webcam setting available in those apps which allows you to test it.
Does a webcam need software?
Yes, they do need if the camera hardware offers features such as depth, low-light support, night vision,, etc. If you are using any software with the camera, it will only be able to use these features if you have installed the driver.