In recent times, many users prefer Google Docs as it is free and they don't have to download any software separately for using Word, PowerPoint, or Excel. The developers frequently update Google Docs by introducing new attractive features, which is an additional advantage that most users relish. Furthermore, Google Docs comes with thousands of beautiful pre-built templates that allow users to create any type of documents.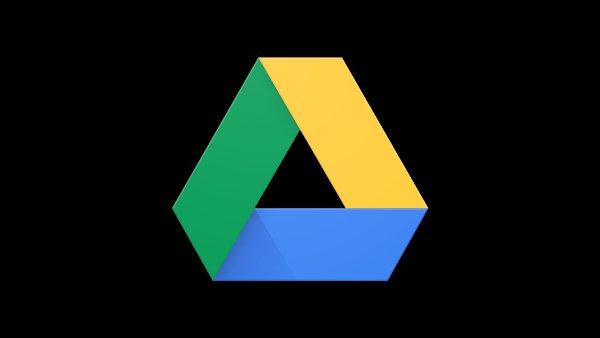 In this article, we will discuss the best Google Docs productivity templates that will help you to create attractive documents. However, before discussing about the Google Docs productivity templates, we will explain what a Google Docs template actually is.
What is a Google Docs template?
Google Docs template is a blueprint for easily and quickly creating documents based on parameters and structures. Free Google Docs templates are divided into four different sections, which are categorized as Work, Travel, Home, and Health.
Now we will move into the main section of this article from where you will come to know about the best Google Docs Productivity Templates.
Best Google Docs Templates
1] Business Letter Geometric Template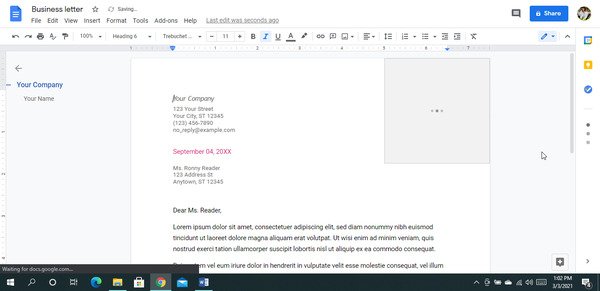 Google Docs Business Letter Geometric Template is a handy template for creating professional-looking business letters for certain purposes. This fantastic template brings style and substance and adds the right amount of maturity required for writing a business letter. Check out the template from the official site.
2] Project Proposal Spearmint Template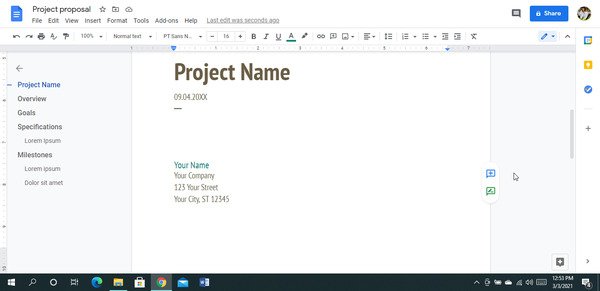 Project Proposal Spearmint Template is beneficial for influencers, freelancers, and small business owners. Using this template, you can write an elegant-looking proposal and impress your client if he/she asks for a project timeline before assigning the work to you.
Moreover, with the help of this template, you can add a company logo, project name, address, and can even add a short intro about the project. Click here to access the template.
3] Resume Template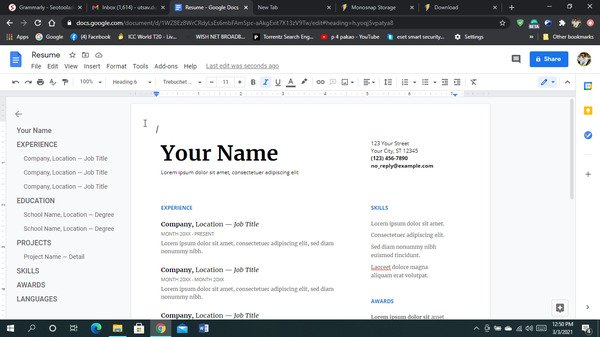 Resume Template will allow you to create a stunning resume that will help you to properly introduce yourself and make a solid first impression in front of the job seekers.
This Google Docs template allows you to add all essential details like name, skills, passions, personal information, and previous job timeline, etc. Click here to use Resume Template.
4] Class Notes Playful Template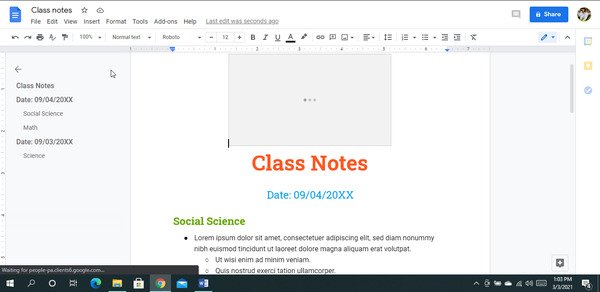 Class Notes Playful Template is specially designed for students so that they can take notes during class hours. This useful template will allow you to divide the notes according to the date and different subjects.
Class Notes Playful template also allows students to share their notes with their friends. Furthermore, through this template, teachers can also add essential remarks about a particular class.
5] Letter Spearmint Template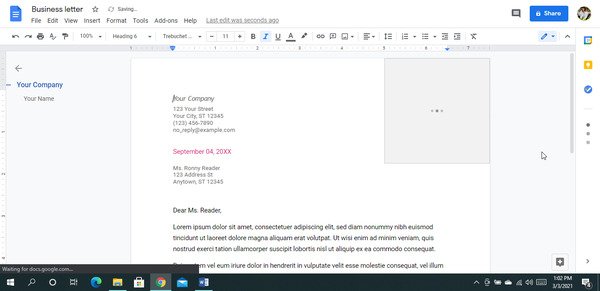 Letter Spearmint Template will help you to write official letters. It offers predefined letter formats so you will be easily able to write attractive letters without having any sort of issue. There are special blocks where you will be able to add an address and company name. Checkout Letter Spearmint Template.
Read: Google Docs Keyboard Shortcuts for Windows 10 PC
6] Recipe Coral Template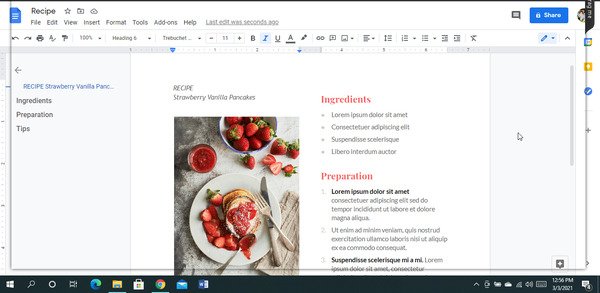 Recipe Coral Template is a top-class template that is used to write about different types of recipes. Within this template, you can add a food dish image with the recipe name, cooking instructions, required ingredients, and can even add cooking tips.
Moreover, this template also allows you to add additional information like cooking time, calories offered by the dish, and information on the total number of people you can serve. Get Recipe Coral template.
7] Pet Resume Spearmint Template
Pet Resume Spearmint Template is a unique template that will allow you to create your pet cat or dog's resume. With the help of this template, you can share information about your pet's personality and health.
Moreover, within this template, you can also add short information about yourself under the "About the Owner" section. Get Pet Resume Spearmint Template.
8] Lesson Plan Simple Template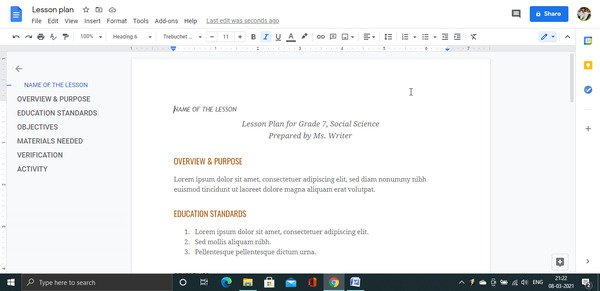 Lesson Plan Simple Template is mainly used by teachers to plan the lessons of a particular class and subject. It contains several sections like "Name of the Lesson," "Overview & Purpose," "Education Standards," "Objectives," "Materials needed," "Verification," and "Activity."  Get Lesson Plan Simple Template.
As promised at the beginning of this article, we have given detailed information regarding the best Google Docs Productivity Templates. So, all users who prefer to use Google Docs must thoroughly go through this article.