If you want to test your typing speed, check out these free online tools. You can test your typing skill with these tools. The best thing is that some of the tools help you learn the 10-finger typing method to ennoble your typing skill.
Best free online tools to test typing speed
Here are the best free online tools to test typing speed-
LiveChat
TypingAcademy
TypingCat
TypingTest
10FastFingers
Typing.com
Ratatype
Let's check out these tools in detail.
1] LiveChat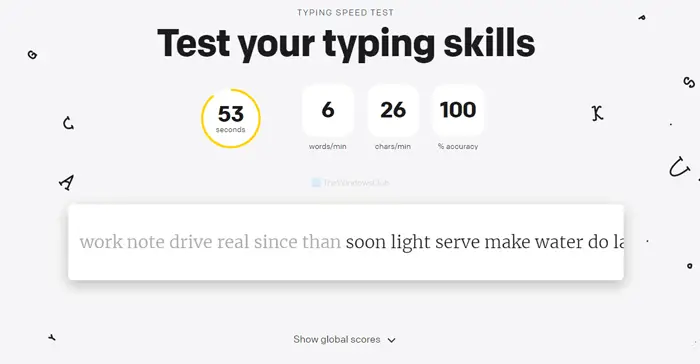 It is one of the good-looking websites where you can test your typing speed. The user interface of the LiveChat official website is uncluttered, and that makes it better than others. Although it has almost all the essential features, there are two drawbacks.
First, it doesn't allow you to change the time limit. Second, it doesn't test your typing skill with the proper sentence. In other words, you will have to type random words. However, you will get the words/min, characters/min, and percentage of accuracy as you type. After the end of the given time, you will see the formal report you can share with friends on various social networking sites.
TIP: These free Typing Software for Windows 10 are sure to interest you.
2] TypingAcademy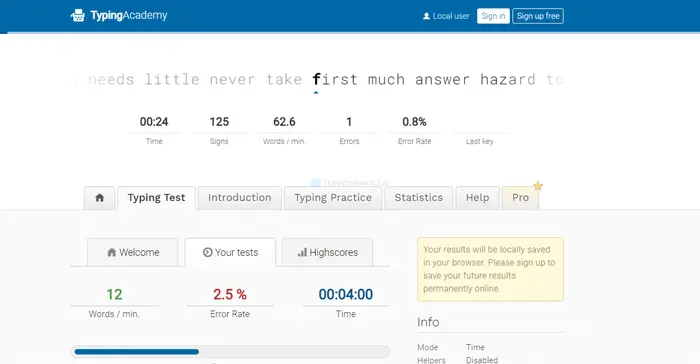 TypingAcademy doesn't restrict users to a one-minute time frame as you will have two minutes to test your skill. It shows various information such as error rate, words/min, characters/min, signs, last key, etc.
Unlike LiveChat, it offers proper sentences to type so that users get a real-life experience while typing. The UI is neat and clean, and that's why you won't find any problem even for the very first time. It doesn't require creating an account, but account holders can save their progress. Check out the official website to test your skill.
3] TypingCat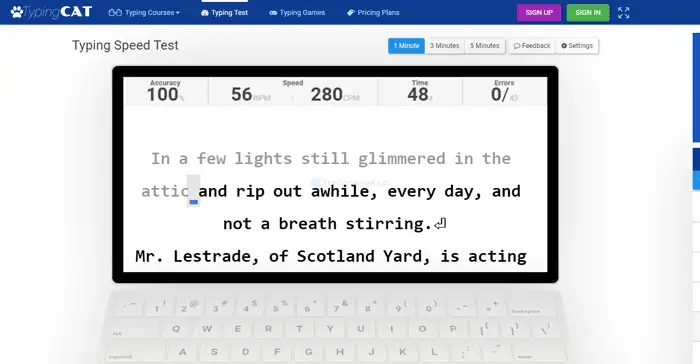 The best thing about this website is that you can set a maximum of 5 minutes to test your typing speed. It shows original sentences so that you can start your typing quickly. Talking about the information, the official website of TypingCat displays accuracy level, word count/minute, character count/minute, error rate, etc.
Another important thing is that you can see the top rank holders of the last 24 hours and all-time on your right-hand side. It helps you improve as you practice and test your skill.
4] TypingTest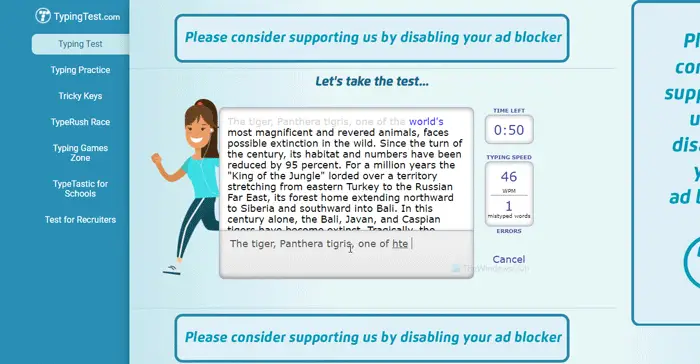 TypingTest is a fully-featured website to test your typing skill online. Although other websites allow you to select only English, you can choose other foreign languages on this website. The second essential feature is that you can choose an essay from the given list.
Next, it lets you choose the time limit as well as typing material. In other words, you can select text, sentences, or words. To get started, visit the official website, choose all the things mentioned above, and click on the Start Typing Test button.
5] 10FastFingers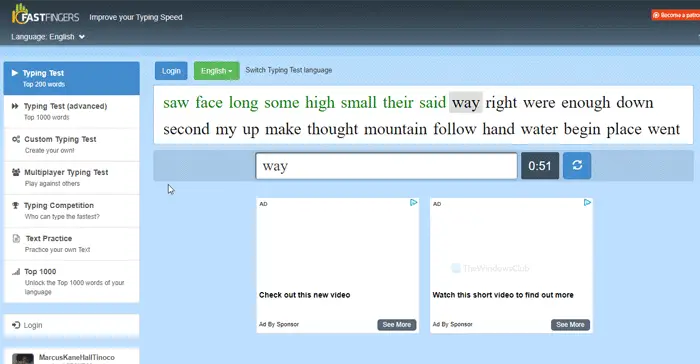 Although 10FastFingers is a free website, it comes with tons of essential options and features. From a regular typing test to multiplayer competition, you can do everything on this website. The next big thing is that you can enter custom text to test the skill as per your requirements.
Even though this website doesn't require an account to access all the features, you can save your progress with an account. Apart from that, you can enlist yourself in various competitions and games with a user account. The next important option is that you will have the opportunity to choose among multiple languages, including English, Danish, Spanish, Russian, French, etc.
6] Typing.com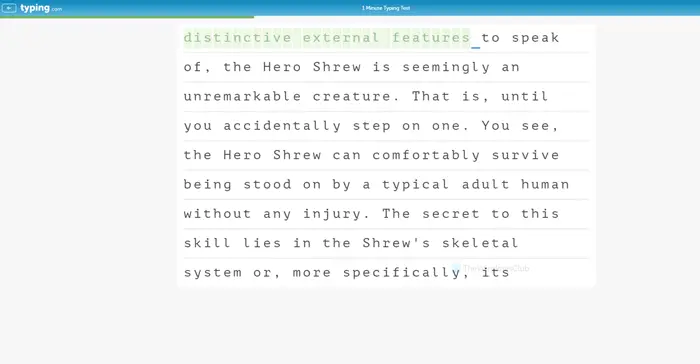 Although it doesn't show the characters/min or some other minor details, you will find the word per minute count and the accuracy level. The second feature is that you can select a 1-minute test and a 3- and 5-minute test. The third feature is that you can take a page test on this website.
Apart from these, it records all the reports by date to find the improvement quickly. The only setback of this website is the font of the text. As it uses the monospace font, it isn't enjoyable to look at it as you type. Check out the website to take a test.
7] Ratatype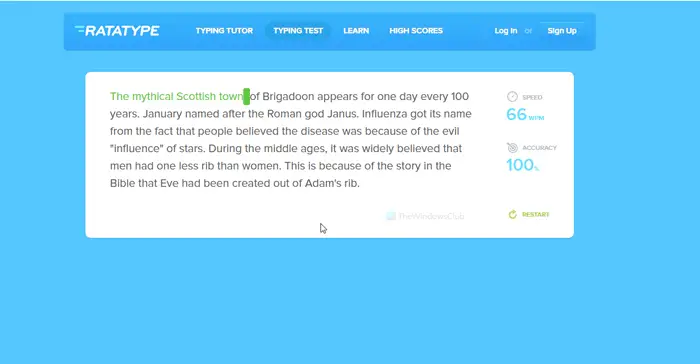 If you do not want to get some fancy features, Ratatype is probably the best option for you. The clean UI makes it better for newbies. It shows minimal information, such as accuracy percentage and word per minute count. However, it has a unique feature. You won't find a time limit while taking a test. It shows the typing speed or the word count/minute, and the accuracy level as you start typing.
This website offers a typing tutor that helps you learn fast typing with the 10-finger method. The last but not the least feature is that it allows you to choose among various languages to test your skill in different languages simultaneously. Check out the official website for more information.
That's all! These are some of the best online tools to test typing speed.