Screensavers are fun. A good screensaver can bring a smile to your face when you come to your back to your PC after being away for a while. Do you know the screensavers were actually made to prevent the pixel burn in the old computer monitors? Today we use them to personalize our computers or to prevent anyone from taking a peek at your screen while you are away. There are tons of free screensavers available for your PCs but would you ever like to create your own screensaver? Today, in this post, we will be talking about a program Before Dawn that lets you create your own screensavers using javascript, HTML/CSS, canvas, etc.
Before Dawn screensaver creator software for PC
Before Dawn is an open-source application that brings a set of cute and interesting screensavers for your Windows 11/10 PC and, also lets you create your own screen savers using web-based technologies. You can use javascript, HTML/CSS, or canvas to create your own screensaver. It is a cross-platform application, designed to work on several computing platforms.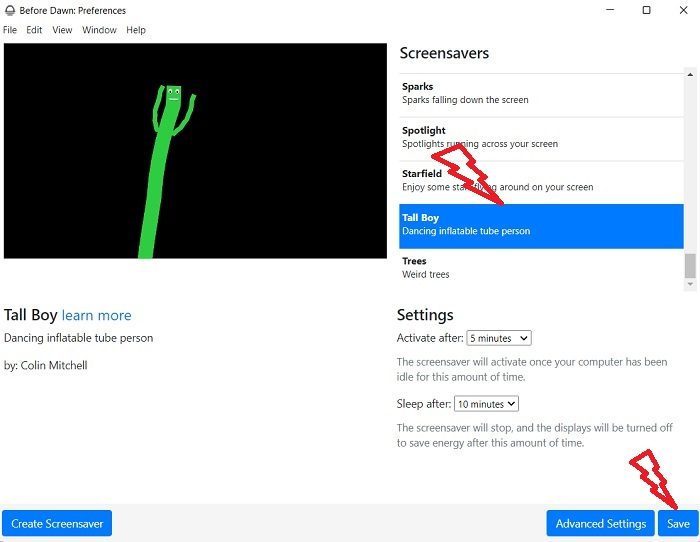 Also, the program has a small collection of interesting screensavers for your PC.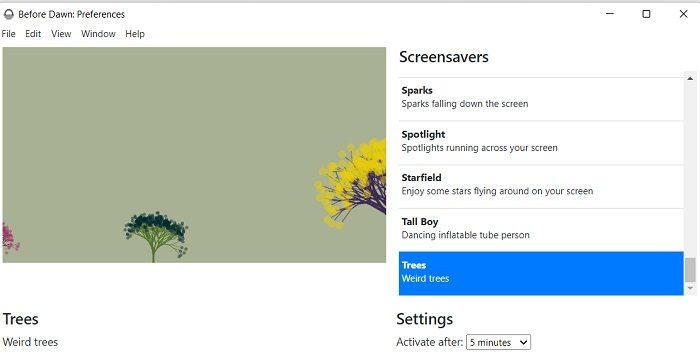 Some of my favorites are – Emoji that reacts to the sounds, a tall man dancing on my screen, Quasicrystal, and weird trees.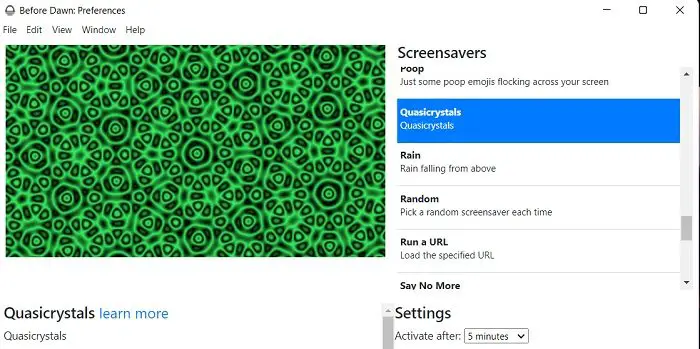 Once you download and install the program on your PC, its shortcut will sit on your desktop and system tray. Click open it and you can select a screensaver for your PC. You will see a list of screensavers and a preview window. Select a screensaver from the list, check the preview and set it as your screensaver if you like it. If you are confused about your choice, select the Random option, and the program will randomly be changing your screensavers.
You can also select the activation time and sleep time for your screensaver here.
Activation time – your screensaver will activate when you leave your computer for this amount of time. The default timing is set to 5 minutes but you can choose it from 1 minute to 1 hour. You can also opt Never here.
Sleep time– Your screensaver will stop after this amount of time to save energy. The default sleep time is set to 10 minutes but you can choose it to anywhere between 1 minute to 1 hour or never.
Not only you can enjoy the set of interesting screensavers here but also create your own personalized one. However, for that, you need to know HTML/CSS, javascript, or canvas.
Create your own Screensaver using Before Dawn

Download the Before Dawn screensaver application from GitHub.
To create the screensaver of your own with Before Dawn, you need to set a local directory of your codes.
Once it is set, click on Create Screensaver option in the main window.
Browse to your local directories and add your screensaver here.
Where are screensavers stored on Windows 11?
The screensavers are stored in the System32 folder on your PC. If you cannot find it on your PC, go to This PCàC Driveà Program File (x86) and search for Screensaver in the search bar.
How do I get more screensavers on Windows?
Press Win+I to open Settings. Go to Personalization and click on Lock Screen. Scroll down and click on Screen Saver. This will open a new pop-up window. Select a screensaver from the dropdown menu.