Windows 10 has multiple ways for users to search for text in documents, among other things. Folks can even choose to take advantage of the many third-party programs out there. But there is one particular third-party search alternative tool that we want to talk about today, and it is called AnyTXT Searcher.
AnyTXT Searcher for Windows 10 PC
AnyTXT Searcher is a powerful file full-text search engine & a desktop search application for fast document retrieval. Just like a local disk Google search engine, it is much faster than Windows Search.
With this tool, users can locate any file on Windows 10 with relative ease, and that is something we like very much. When it comes down to the indexing system, this is quite fast due to the included parsing engine.
In terms of compatible files, AnyTXT Searcher has no problem with playing nice with the following formats:
Plain text (txt, cpp, py, html, etc.)
Microsoft Outlook (eml)
Microsoft Word (doc, docx)
Microsoft Excel (xls, xlsx)
Microsoft PowerPoint (ppt, pptx)
Portable Document Format (pdf)
WPS Office (wps, et, dps)
EBook (epub, mobi, chm, fb2, etc.)
You won't be disappointed at all, so keep reading to learn more about the following:
Search for a specific word or phrase
Open a file or document
Let us look at the Edit tab
Tool tab.
Let us talk about this in a more detailed manner.
1] Search for a specific word or phrase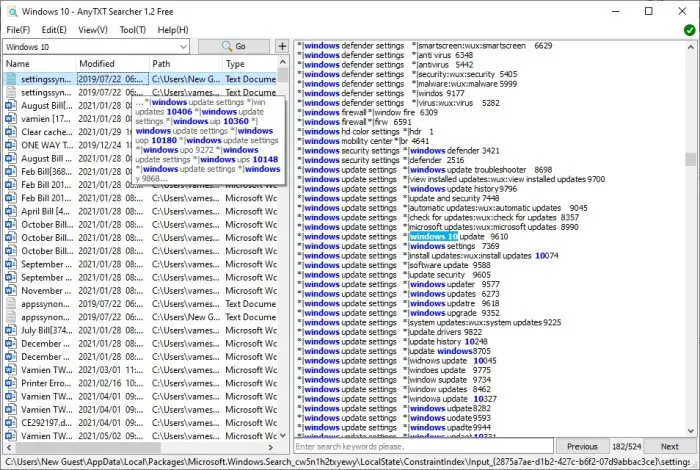 If you want to search for a specific word, this is quite easy. Just know that if any of your documents contain this word or phrase, then all of them will show up at once.
To do this, click within the search box after opening the file. Once that is done, type the word or phrase, then hit the Go button. Right away, AnyTXT Searcher should showcase one or more documents or files with the search query embedded.
By selecting any file or document from the search results, you will see the contents it holds along with the search query highlighted in yellow.
2] Open a file or document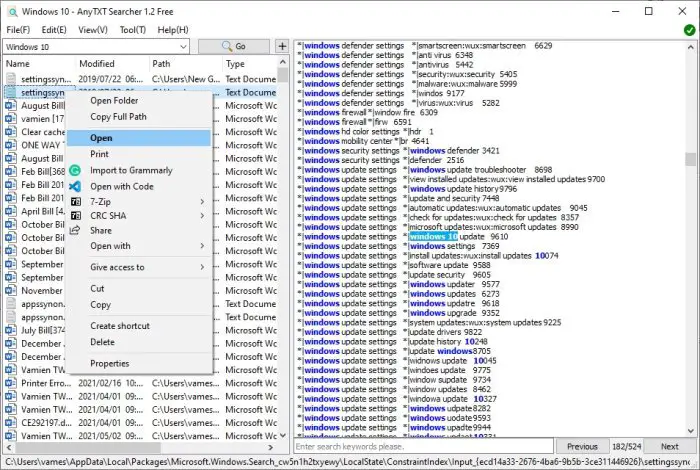 After you've performed a search, it is straightforward to open a file or document from the results. Right-click on the file, then select Open, and that's it.
Now, if you want to open the folder where the file or document is stored, please right-click then select Open Folder. Easy, right? We agree.
3] Let us look at the Edit tab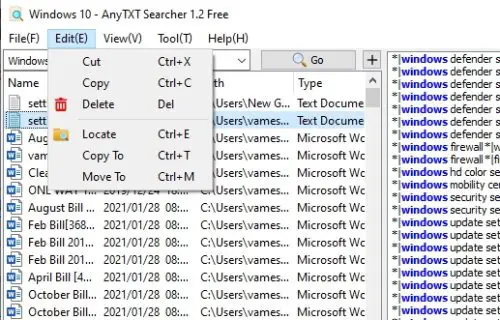 If you look above, you'll see a tab called Edit, and it contains a few things. Click on right away, and from the dropdown menu, you should have the ability to copy and move files to a preferred section on your computer.
You can even Cut, Delete, and Locate from this very section as well.
4] Tool tab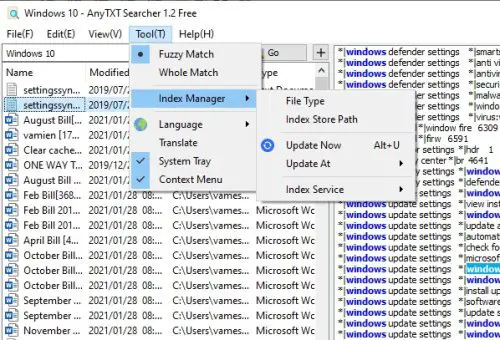 Another thing you might want to do here is to click on the Tool tab. It doesn't contain a ton of key features, but you'll be able to decide if you want to have AnyTXT Searcher show up in the Context Menu or the System Tray.
You can perform several other basic actions from the Tool tab, so look around to see if there is anything worth your time.
Download AnyTXT Searcher directly from Sourceforge.
Related: Windows 10 Search Indexer and Indexing Tips & Tricks.