Amazon Prime Video is among the most popular video streaming service available today and is the default choice for many of us. The prime comes with the massive library of movies and TV shows. With an eligible membership, one can access to thousands of popular movies and series across every category. The prime services have been upgraded a lot over the years and have included several premium features to thrive on competition. Prime features like 4K Ulta HD, X-rays, and High Dynamic Range (HDR) are super attractive.
Amazon Prime Video Tips and Tricks
Having an Amazon Prime membership means you will have access to unlimited movies and TV series from the video app on your compatible Fire TV, mobile, tablet, or a streaming media player. Also, Prime service is easy to use and reliable which brings in thousands of video titles at no additional cost. Besides, it has many features which most of the subscribers are not aware of. Thus in this article, we outline some of the few tips and tricks that might help you enhance the Prime experience.
1] Keep track of the shows you want to play next with the help of Watchlist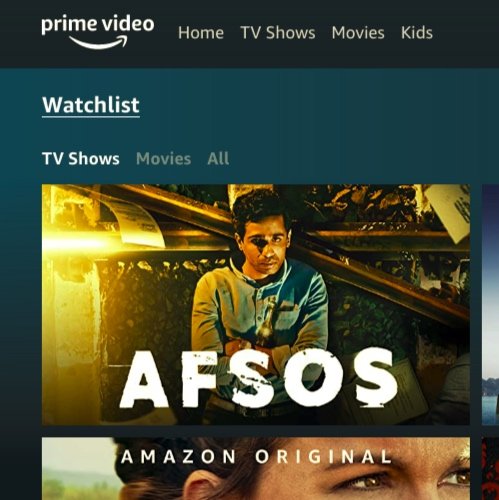 Prime video contains thousands of movies and shows with new original shows added too often. With so many original shows and movies available, it is quite natural to be confused about what to play next. One way to keep track of you what you have watched previously and what content you want to play next is by creating a Watchlist. With this feature, one can easily keep a record of all the fresh movies and shows to be watched later.
This feature is available both on the web as well as Prime mobile apps. To add shows and movies to your watchlist, Simply click on the Plus sign icon at the bottom of the video's thumbnail that you want to watch later. All the videos saved to watch later will appear under the option Your Watchlist under the menu section. The movies and shows entries in the Watchlist can be sorted based on a different metric. Additionally, you can delete the entries from the wishlist if you change your mind.
2] Learn more about what you are watching with X-Ray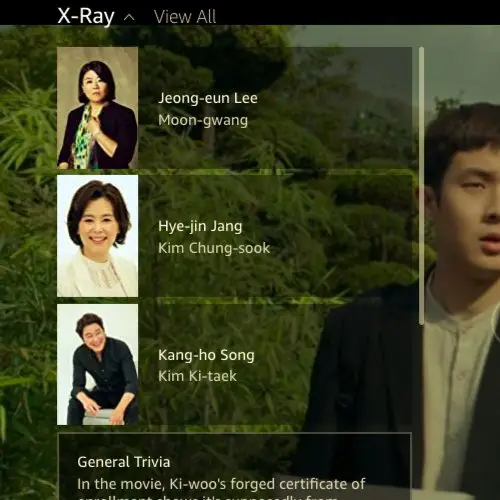 X-Ray is an incredible feature in Prime Video that help you know more about whatever you are watching. Simply hit the pause button and X-Ray will pop up with bios, character backstories, filmographies, trivia, and even soundtrack titles To see more information simply click View All. The X-Ray feature fills you in on bonus data from the Internet Movie Database (IMDB) owned by Amazon.
3] Limit excessive period on Prime by turning off Auto Play
Many of us love to indulge in binge-watching shows and Prime video has an AutoPlay feature that allows its subscribers to watch multiple shows in rapid succession. AutoPlay adds episodes to the queue so that if you are done watching an episode another episode of the show is automatically played from the queue. No doubt AutoPlay is useful for people who love to binge-watch their favorite shows. However, if want to limit the number of hours you are spending in Prime video, you can control binge-watching by turning off the AutoPlay feature. To disable AutoPlay, go to the Settings page and under the Playback tab, you will find a toggle switch to turn off Auto Play.
4] Share Prime Membership with other People
Amazon allows your family to access Prime videos and other Prime benefits without buying multiple Prime memberships. You can share your membership benefits with one adult plus up to four children and four teenagers. To share the Prime benefits, you need to first set up Amazon Household and add accounts in the Household page. Once done the added accounts will be able to enjoy the prime benefits including access to Prime Video.
5] Limit access to Prime videos by Setting Parental controls
Prime Video allows you to set parental controls that will stop people from accessing Prime videos from certain categories and even purchase videos without punching in a special five-digit Amazon video PIN. To set Parent controls, go to Video Settings and click on the Parental Controls tab. Now create an Amazon video PIN. Select a category level under Viewing Restrictions. To limit video Purchases, choose the On button for Pin on Purchases.
6] Download favorite videos for playing on the Go
Amazon Video allows you to download your favorite shows and movies so that you can watch it later. This is useful for commuters who can watch their favorite videos even without an internet or Wi-Fi access. To download your favorite video, simply hit the download button next to the video. You will be alerted, once the downloading is finished.
The above tips are the essential ones that will definitely elevate your streaming experience. Which is your favorite tips and tricks you use with Amazon Prime video? Write to us in the comments below