This post discusses top AI Manga Filters to convert your photos to anime on a Windows 11/10 PC. The AI Manga filter is a special filter that can transform your photos into artwork that resembles Japanese anime designs. It uses the power of AI to analyze your face and create a manga-style representation of you.
AI Manga filter became popular when TikTok introduced it as a native feature. Slowly, people started loving the fun and creativity of generating their own anime avatars and sharing them with friends. Now, multiple platforms offer tools to transform images into stunning manga-style cartoons with just a few clicks. This post covers some of the best web-based apps that will help you quickly turn your selfies or portraits into manga animes on a Windows PC.
Top AI Manga Filters to convert your photos to anime
Here are the top AI Manga filters to turn yourself into anime or cartoon:
AI Manga Filter by Fotor
AI Manga Filter by Live3D
AI Manga Filter by ImgCreator
Let us see these in detail.
1] AI Manga Filter by Fotor
Fotor is a multi-platform photo editing app. The online version of the app features an AI Manga Filter that can be used to easily convert photos into manga images. You can use an image to transform into manga or generate your own AI anime character by typing the description of the character you have in mind. The app offers multiple plans to cater to the needs of different users. The free plan offers 3 credits per day. One credit can be used to turn one photo into one manga image.
The process of creating manga cartoons on Fotor is pretty simple. You can visit Fotor's page in your favorite browser, upload your image, select the anime style you want to apply to your image, and hit the Generate button. Fotor allows you to create more than 1 anime at a time, where each conversion costs you a credit. Additional credits can either be purchased directly or earned as incentives by completing specific tasks or participating in certain campaigns. Your creations are saved in your Fotor account and can be downloaded locally with a click of a button.
2] AI Manga Filter by Live3D
Live3D is another online platform that offers a free AI Manga filter to convert your photos into unique anime images. It works not only on human images but on anything such as pets, objects, etc. It allows converting image to image, text to image, and pose to image (a 3D model helps you set a pose for the anime character).  The filter settings include various Models and Loras, where a Model determines the output style for the anime image and Loras further add specialized features to the model.
To convert your photos to manga, visit Live3D's page and upload your photo. Then select a Model and a Lora (or multiple Loras) to be applied to the final image. Click on the Generate button to start the conversion. Once the results arrive, you can download the final image locally on your system. Live3D also offers flexible plans for its users. The free plan offers 50 credits per day, and the cost of each conversion is 10 credits.
3] AI Manga Filter by ImgCreator
ImgCreator is yet another AI Manga filter app for Windows PCs. The app lets you quickly turn real photos into stunning AI anime art with vivid backgrounds, dramatic poses, and costumes. It features image-to-image generation, sketch-to-image generation, pose-to-image generation, and prompt composition. ImgCreator is free to use. Once you sign up, you'll get 30 pro credits, and you'll get free credits daily based on different tasks. To get more credits, you can opt for a paid plan (Starter/ Pro/ Boss).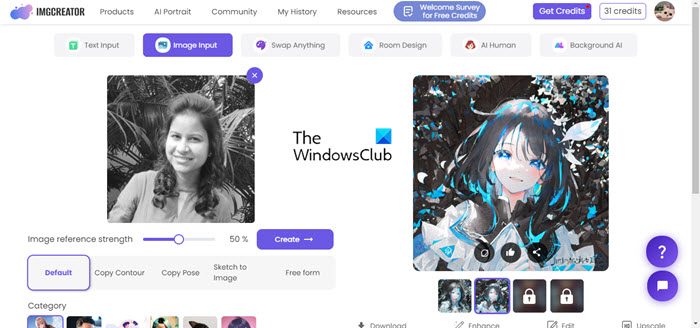 ImgCreator offers a friendly UI, which is no rocket science to use. Visit ImgCreator's page to convert your photos to cartoonish. Then, upload the desired image, choose an anime style, and hit the Create button. Within a few seconds, the app will generate the relevant output for you. The app generates four manga images at once, but free users are entitled to download only 2 of them. Each conversion costs 1 credit. The images can be downloaded in 640px resolution.
So these were some of the best AI Manga Filters for Windows users. Do try them out and share your experiences in the comments section below.
Read: 6 Killer Filters in Luminar – Best Photoshop Like Program.
Where to get the AI manga filter?
AI Manga Filters are offered by several apps, which are available for different platforms including Mac, Android, iOS, and Windows. Fotor is one such app, which is free to use. You can download the app on your mobile device or simply use its web version to turn your photos into mesmerizing anime characters.
Read Next: Free Manga Downloader apps to read Manga on PC.