Windows 7 does not enable Aero Glass effect on its own. Moreover, you need to verify whether your version of Windows 7 supports Aero feature or not. If you find that your Aero feature is not enabled or working in Windows 10/8/7, try these troubleshooting steps.
Aero not working in Windows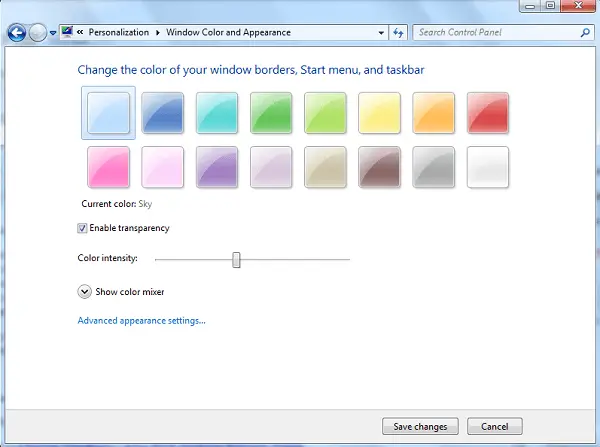 1] Ensure that your version of Windows 10/8/7 supports Aero. Aero is supported on Ultimate, Home Premium, Business editions.
2] Ensure that your Graphic card supports WDDM (Windows Display Driver Model)
3] Right-click on the desktop, select Personalize. Click on Themes and select the default Windows themes. Next, in Windows Color & Appearance, ensure that Enable Transparency is checked.
4] Open Run box, type Services.msc and hit Enter to open Services Manager. Ensure that 'Desktop Windows Manager' Service is set on Automatic.
5] In spite of doing all this, you still find that Aero does not work, or your Aero has stopped working, simply copy-paste the following command in the CMD window, and hit Enter.
rundll32.exe Dwmapi.dll,DwmEnableComposition
This will re-enable Aero by flushing it.
Even if you find that your Flid3D is not working or disabled, you may try these steps.
Also, see these posts on Change Windows Aero Peek Desktop Preview times and Aero theme doesn't work in Windows.