Taskbar Shadow is yet another small tool released by us, that adds a cool drop shadow effect to the Windows 7 taskbar.
What differentiates this tool from some other that are currently available is that Taskbar Shadow is location aware! this means that whether the taskbar is situated at the bottom, top, right or left, this tool works equally well. Previous app/s got separated into a couple of apps, if a user had Taskbar on Top or Bottom. These previous apps did not have Shadow options for Left or Right.
Taskbar Shadow creates a shadow for the taskbar in any position – bottom, top, right or left!
This is how the Windows 7 default taskbar looks.

This is how it looks when you run the tool.

Once the application is started, you can right-click the shadow to change Opacity.
Click on Opacity and use the slider to select the opacity.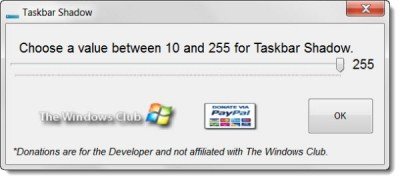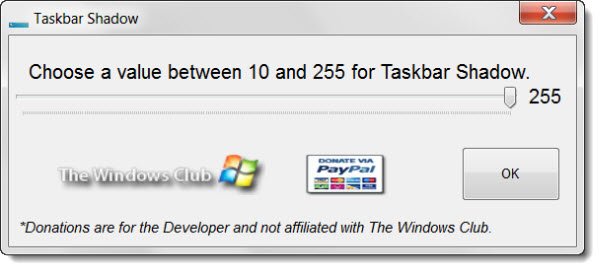 To Exit, right-click the Shadow and Select Exit.

Taskbar Shadow v1 has been developed by Lee Whittington for The Windows Club.
Check it out and let us know what you think!