Google has developed an intuitive solution for its handy notetaking app – Google Keep. If you are not aware, a new feature in Google Keep allows users to easily drag and drop note snippets from Google Keep directly into your opened Google Docs.
Add Google Keep Notes to Google Docs
To add Google Keep notes to your Google Docs, launch Google Docs application and click on '+' button to create a new document.
Then, locate the tools menu in the ribbon interface of the app and when found click it open.
Next, select 'Keep Notepad' option to display the list of your Google Keep notes. The Keep tab just like the contextual Explore tab is found in the Tools menu and allows users to search their notes in a side panel. The search results show up as cards, ready to be dropped into the main edit window with preserved formatting.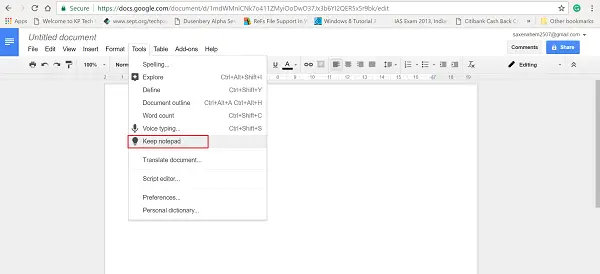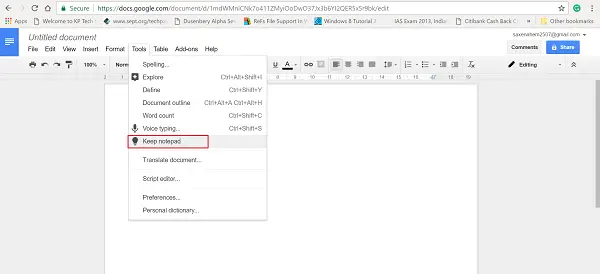 All the cards are displayed in a proper sequence (newest to oldest). Once you have selected the desired note to be inserted to Google Doc, simply click the '3 dots menu' and choose 'Add to document' option. This will add Keep notes directly from the sidebar to the opened Google Doc.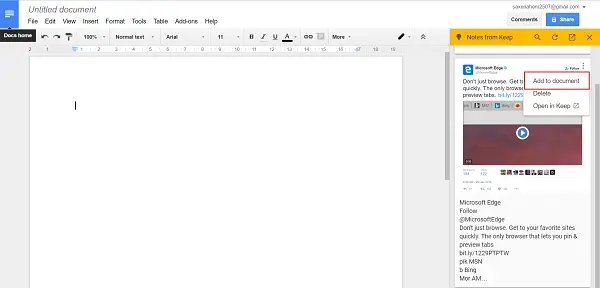 Alternatively, if you're already inspired by the content in your doc, you can create a new note by highlighting the relevant text, right-clicking, and selecting "Save to Keep notepad." The new notes will instantly get linked to the original document.
You could also use the same feature for 'Bookmarking'. For instance, when you chose the option 'Add to document' from the menu of the Keep Note, a link gets added to your Google Doc along with the title of the link itself.
This feature really comes handy, especially when you are creating a report and using different references as a source.
That's how you can add Google Keep notes to your Google Docs. This new move from Google in an effort to expand Keep beyond its consumer user base makes sense since many governments and education users may have already been using the app and the added functionality will help adoption of the service even furthermore.
In case you do not know, Google Keep is now a part of G Suite. It helps employees capture their thoughts, ideas, action items, and more in one easy-to-access place.
if you are already a Google Keep user, share your experience with us in the comments section below.