Most people around the world prefer to use wireless internet at home due to the convenience of it all. However, there are still those who use wired internet since in many cases, it is still better than Wi-Fi where stability is concerned. Some folks may want to connect several devices to their wired network, but they come face to face with a very common problem. That problem in question has a lot to do with routers and their limited Ethernet ports. So, in a situation like this, the option is to add more ports, but that's easier said than done.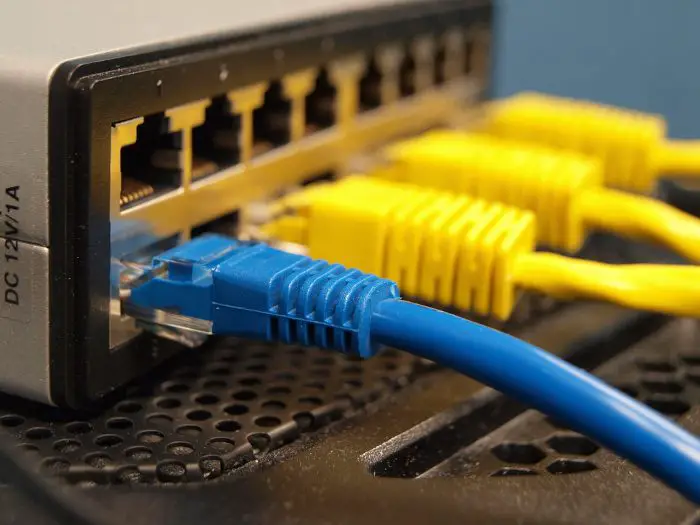 How to add more Ethernet ports to a Router
To learn how to get this done, we recommend reading the information below. It contains only the data that is known to work 100 percent.
Use an Ethernet Switch to add more ports
The possibility of slower internet connection across devices
Gigabit Ethernet ports are ready
Can an Ethernet Switch be used in a different space?
1] Use an Ethernet Switch to add more ports
To extend the number of Ethernet ports available to you where the router is concerned, we suggest getting your hands on an Ethernet switch. These devices will plug directly into one of the Ethernet ports on your router, and from there, you can make use of the additional ports the switch provides.
Now, an Ethernet Switch is not free accessible unless someone is willing to make that happen for you. However, the cost of ownership is relatively affordable, just know that the more ports you want, the more you'll have to pay.
We should point out that it's possible to transform your old Wi-Fi router into a switch, but due to the complexities of doing this, we will have to discuss more about it in another article. You can buy some good ones here at Amazon.
2] The possibility of slower internet connection across devices
Here's the thing, when you connect an Ethernet Switch to your router, it will do so by a single port. That port supports limited bandwidth, which means, if your switch has four ports, then all devices connected to those ports would be effectively running from one, the main port on the router.
If all devices are using the internet at the same time, then the bandwidth from the main port will be spread across to facilitate the four ports on your switch.
By catering to how each device is used, you should have little problems with the sharing of bandwidth overall.
3] Gigabit Ethernet ports are ready
One way to possibly ensure increased speeds for all devices connected to the Ethernet Switch is to make sure your router and the switch itself support gigabit performance. For example, the ports can support speed up to 10Gb, therefore, if your internet connection speed is lower, then a 10Gb port will have no problem accommodating such speeds to deliver to all devices.
Note that if your router can only support up to 100Mb, then you consider upgrading to a gigabit router that can push up to 1000Mb, which is basically ten times the speed of 100Mb. To take advantage of these new routers, you will need devices that support faster speeds. One of the products that can do this is the Xbox Series X and Xbox Series S.
4] Can an Ethernet Switch be used in a different space?
If you want to have your Ethernet Switches in a different room, then this can be done with ease. However, you will need assistance from an Ethernet extension cable. You can determine the size that is best for your needs and then get to work.
Read: Internet works through WiFi router but not Ethernet modem OR vice versa.
What is an Ethernet cable used for?
OK, so the purpose of an Ethernet cable is to send broadband signals between your modem, router, computer, and other internet-capable devices that are connected via wires. For those with high-speed connections, an Ethernet cable makes more sense to deliver such connections due to its capabilities.
We recommend using Cat 5e, Cat 6e, or higher when deciding which Ethernet-capable to invest in. You can buy some good ones here at Amazon.
Is Ethernet cable faster than Wi-Fi?
Make no mistake, Wi-Fi is wonderful and can deliver a fast and consistent internet connection to your various devices. However, if you are looking for greater reliability, speed, and security, then you cannot go wrong with the use of an Ethernet cable.