Some Windows 10 users, especially those who may have bought new devices have been reporting that their Windows Store apps do not launch or open. This issue is being specifically noticed on those Windows 10 installations that have multiple User Accounts created. Among others who are facing this issue are some Windows Insiders as well as those who have not installed some Cumulative Updates.
Windows Store apps do not launch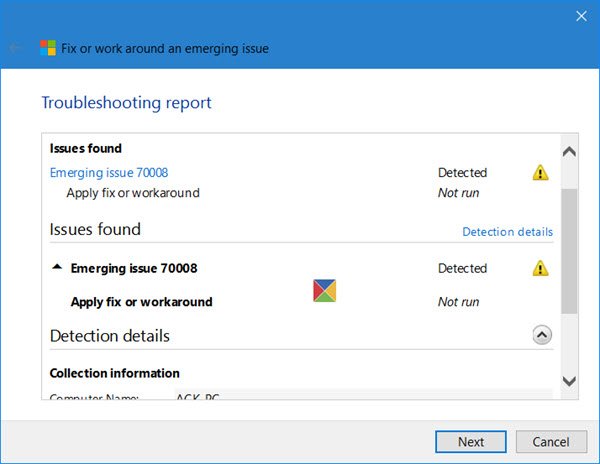 While the Windows Store Apps Troubleshooter for Windows 10 will troubleshoot and fix all issues and problems you may be facing and this Automated Fix will help you fix the Windows Store not working issue, Microsoft has released this new troubleshooter and fixer to address specific issues.
Specifically, KB3092053 states that this issue occurs where –
Prior to installing Windows Updates, multiple user accounts are created and one user installs or updates an app via the Windows Store while the other users are not signed in. In this scenario, the installed or updated apps may fail to launch for other users, and the Start menu will not dismiss. This scenario creates leftover invalid entries in the registry, which causes a conflict when launching the installed or updated apps.
The apps affected could include Cortana, Start Menu, Windows Store, etc.
Microsoft has classified this as a new and emerging issue 70008, and it is investigating the causes and solutions. But till such a time, the issue is fixed, Microsoft recommends that you download and run this troubleshooter.
If you are not sure if this applies to your system, don't worry. Microsoft will make sure that it applies to your system before making any changes.
So if you are facing issues with launching or opening Windows Store apps, go ahead and give this troubleshooter from Microsoft a try, and let us know if this worked for you.
Always a good idea to create a system restore point first. ;)