Microsoft has released its Windows Server 2016 Performance Tuning Guide. This is a comprehensive guide that provides a collection of technical articles with directions for IT professionals responsible for deploying, operating and tuning Windows Server 2016 across the most common server workloads.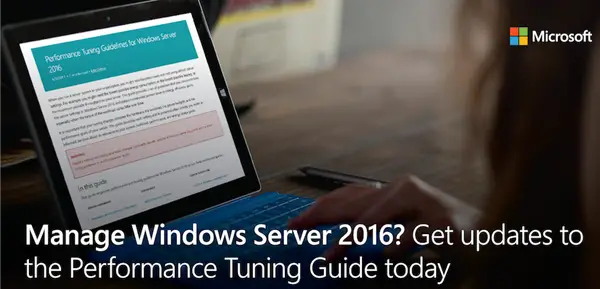 The Windows Server Performance Tuning Guide is a critical piece of documentation produced by Microsoft to ensure that the engineers in the field (PFEs, CSS, and others) have the canonical information required to tune and optimize the OS.
Windows Server 2016 Performance Tuning Tips
It is important that the tuning changes are made by considering the hardware, the power budgets, the workload, and the performance goals of the server. The guide explains each setting and its potential effect to help engineers make an informed decision about its relevance to the system, workload, performance, and energy usage goals.
Microsoft has defined the Windows Server 2016 performance and tuning tips across three different tuning categories:
Server hardware and power tuning
Server role
Server sub-system tuning
Let's understand the importance of considering these tips
Server Hardware Tuning
Selecting proper hardware is necessary to meet your expected performance and power goals. Hardware blockages often limit the effectiveness of software tuning. This section provides tips for hardware to ensure a good foundation for the role that a server will play.
Hardware Performance Considerations – Processor, cache, memory, a peripheral bus, disk, network and storage adapter all play an important role in your server's performance. Hence it is important to consider all the recommendations to remove performance bottlenecks that might obstruct the server's performance.
Hardware Power Considerations – It is very important to identify the increasing importance of energy efficiency in enterprise and data center environments. To achieve the correct balance between high-performance and low-energy usage one needs to carefully select server components. Microsoft lists guidelines for power characteristics and capabilities of server hardware components.
Server Role Tuning
The guide is very helpful for those who deploy roles like –
Active Directory
Hyper-V Servers
File Servers
Remote Desktop Servers
Web Servers
Windows Server Containers
Server Subsystem Tuning
Cache and Memory Management – Troubleshoot issues in cache and memory manager performance and check out cache manager and memory manager improvements in Windows Server 2016.
Software-Defined Networking – A combination of a Network Controller, Hyper-V Hosts, Software Load Balancer Gateways and HNV Gateways makes the software-defined networking (SDN) in Windows Server 2016. The recommendations are available for the fine-tuning of each of these components.
Storage Spaces Direct – Tweak Storage Spaces to get the best performance.
The complete documentation on Performance Tuning Guidelines for Windows Server 2016 can be found on docs.microsoft.com.
You may want to also take a look at these free Windows Server 2016 eBook, Whitepaper, PDF, Documents, Resources. You may want to also download the ultimate guide to Windows Server 2016.