Unitrends Free is packed with enterprise features, such as cloud integration and instant VM recovery, and protects up to 1.0 TB of data. It is available as a virtual appliance for Microsoft Hyper-V and VMware vSphere.
Unitrends Free for Hyper-V and VMware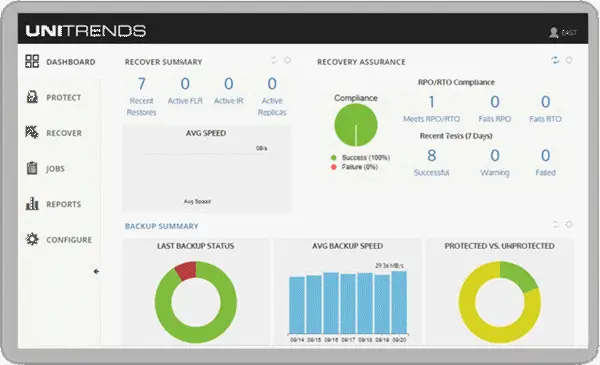 Unitrends Enterprise Backup Free Edition, now called Unitrends Free, protects virtual and physical environments both locally and in the cloud.  UEB is available as a virtual appliance integrated with both Microsoft Hyper-V and VMware vSphere, and offers all the advantages of their physical backup appliance solutions, but with the flexibility of a software-only deployment
Notable features of Unitrends Enterprise Backup are:
Ability to protect the virtual environment as well as physical servers
Instant recovery of virtual machines & VMware guests
File-level recovery of files and folders.
Rotational archiving to disk, tape, NAS and SAN. Ability to archive data to tertiary storage for long-term retention
Automated backup scheduling with flexible strategies.
The paid version offers physical appliances in addition to our virtual appliance UEB software for the IT admin who wants a separate appliance and storage for backups.
Able to protect truly heterogeneous environments
40+ operating systems with agents
File-level, block-level, and appliance-level protection are included. It can protect RDM's.
Unitrends Enterprise Backup is deployed as a Hyper-V or VMware virtual appliance, and already includes support for Windows Server. The Free Edition can be requested and downloaded HERE. The free version offers protection to up to 4 VM's only.
If you are a VMware and MSFT certified professional, you can request for a free NFR license of its paid version.