So you installed the Windows 10 Anniversary Update or Windows 10 v1607 and you do not like it for some reason – or maybe it is giving you problems, and you want to uninstall it – well, here are the instructions that will show you how to uninstall Windows 10 Anniversary Update from your PC.
Uninstall Windows 10 Anniversary Update
To uninstall Windows 10 Anniversary Update you will have to open the Start Menu. Next, click on the Settings link – depicted by the sprocket/wheel image.
Having opened Settings, click on Update and security and here select Recovery settings. Now under the Go back to an earlier build section, click on the Get started button.
The process will start and you will be asked some questions fo information purposes, as to why you are going back to the previous build of Windows 10.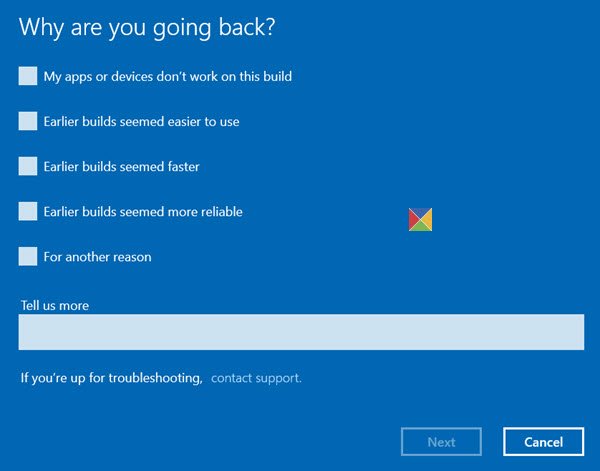 Do the needful and click Next to move on. If you wish, you have a chance to Cancel now.
You have to remember that when you go back, you will lose the settings changes or the apps you may have installed after you upgraded to the current build. Just to be on the safe side, you may want to also back up your data. Also remember to note down your password or login credentials as you will be required to enter them after the process is completed.
If for some reason you are unable to log into your PC, you can also uninstall this Windows 10 Anniversary Update build via the Advanced startup options > See more recovery options.
All the best!
NOTE: Microsoft has reduced the uninstall/rollback period from 30 days to 10 days, with Windows 10 Anniversary Update v 1607.