From laptops, cell phones, tablets to TVs and recently the camera too, every device is Wi-Fi certified. This 802.11 technology has made our life simple by providing internet on every device. WiFi routers have become among the basic needs of the household. What if you don't have a router and still have WiFi devices? There is no need to buy any separate hardware for it, your WiFi certified PC or Laptop can act as a WiFi router.
Free WiFi Hotspot Creator software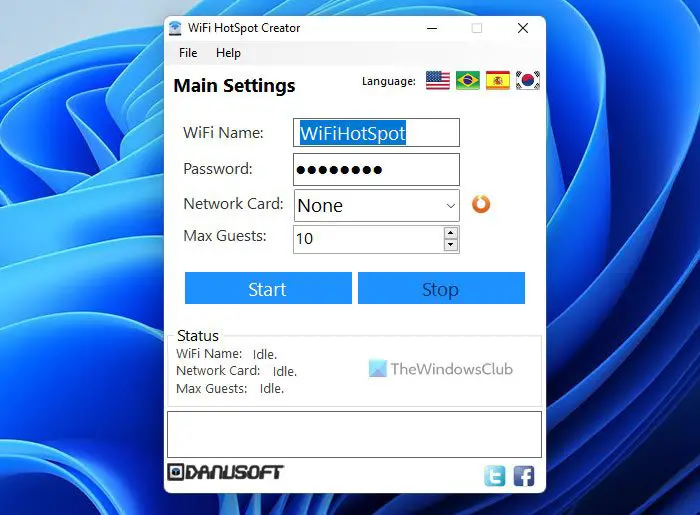 Here's how to turn your PC or Laptop into a WiFi hotspot.
WiFi HotSpot Creator is an easy to use and simple application for Windows that will turn your PC with a wireless card or Laptop into a WiFi hotspot. This application works on the same technology used in the WiFi routers and uses your DSL, Cable, Mobile Broadband Card, Dial-Up, etc. any of these connections to create a hotspot and that too without any need for extra hardware.
Step One: Download, Install and Run WiFi HotSpot Creator
Step Two: Under WiFi Name, type a name for your network. (WiFi network will appear on your devices with this name)
Step Three: Type a password to ensure the security.
Step Four: Select the network card that your PC or Laptop is using.
Step Five: Select the maximum number of users that will connect to the WiFi.
Step Six: Click the Start button.
Step Seven: That's it. Your PC or Laptop has started working as a WiFi hotspot. Use your devices to discover the network.
WiFi HotSpot Creator software download
Even though there are many such applications, WiFi HotSpot Creator is a very easy-to-use solution and works on the one-click action principle. You can download it from Softpedia. Please take care of any 3rd-party offers, if any during the installation.

It works on any Windows PC or Laptop, and the only basic requirement is a Wireless Network Card and .NET Framework 4 installed. If you have it, you are good to go!
How to use your Windows PC as a mobile hotspot?
To use your Windows PC as a mobile hotspot, you can use the WiFi HotSpot Creator app on your computer. It is fully compatible with Windows 11, Windows 10, and some other older versions. However, your computer must have the WiFi components in order to turn it into a WiFi hotspot.
How to turn PC into virtual WiFi hotspot?
To turn your PC into virtual WiFi hotspot, you can use the WiFi HotSpot Creator. However, there are other tools you can use. For example, you can utilize Connectify, Virtual Router Manager, Bzeek, etc. You can try all of them one after one and opt for one of them as per your requirements.
Here is a list of some more Free WiFi HotSpot software that may interest you. You can also enable Internet Connection Sharing & turn Windows PC into WiFi Hotspot, natively instead.