If you receive a This device has been removed from OneDrive To use OneDrive on this device, click OK to set up OneDrive again message on Windows 10/8/7, then you could see if any of these suggestions help you fix the problem.
This device has been removed from OneDrive
Microsoft appears to have fixed this issue in its latest October Cumulative Update. So please ensure that your Windows 10 is fully updated, restart your PC, log back in and see it the problem has gone away. Else you may read on.
1] On your desktop, you will see the OneDrive 'clouds' icon in your notification area. Right-click on it and select Settings.
Here ensure that the Let me use OneDrive to fetch any of my files on this PC is checked.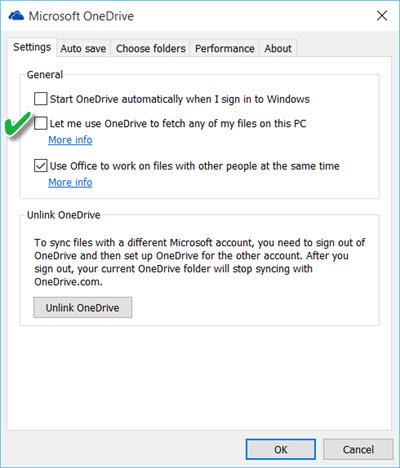 If you want to make sure OneDrive always starts when you sign in to Windows, you will have to also check the Start OneDrive automatically when I sign in to Windows option.
Restart OneDrive and see if it has helped.
2] If this item is grayed out or the OneDrive icon itself is grayed out, you may have to first re-setup OneDrive again. To do this, type OneDrive in taskbar search and click open OneDrive desktop app. Click on Get started and complete the set up procedure as per the wizard. During setup, choose to sync to the same OneDrive folder.
3] Run OneDrive Troubleshooter and see if it fixes the issue.
4] Run Microsoft Account Troubleshooter and see if it helps the problem.
5] It may be possible, that this could be a OneDrive server issue or that your device could be experiencing intermittent disconnection from the OneDrive server. In such a case, you may have to unlink OneDrive from your device/s and then reconnect them back. Next you will have to reset your network settings as follows:
From the WinX Menu, open Command Prompt (Admin), and run these commands one after the other:
ipconfig /release
ipconfig /renew
ipconfig /flushdns
netsh winsock reset
IPConfig is a tool built into Windows, that displays all current TCP/IP network configuration values and refreshes Dynamic Host Configuration Protocol DHCP and Domain Name System DNS settings. Here:
ipconfig /release will let go of the current IP address
ipconfig /renew will obtain a new IP address
ipconfig /flushdns will flush the DNS cache
netsh winsock reset will reset winsock.
Restart your computer and see if any of this has helped.
If you have other ideas to resolve this issue, please do share in the comments section.