Microsoft Surface for Windows RT is out in the open for grabs and will be officially made available from October 26, 2012. Missing all this action is its elder brother, the Surface for Windows 8 Pro about whom no price/availability details have been revealed. How does the Surface Pro tab score in the specifications department? Here you go.
Surface Pro Specs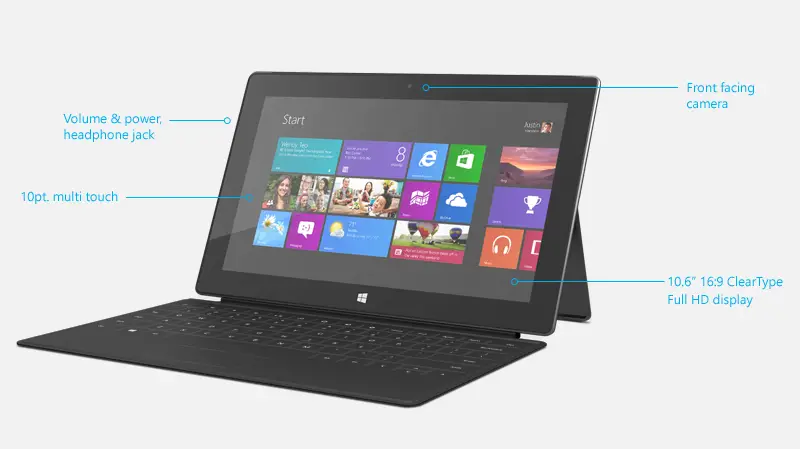 The huge advantage that Surface Pro has against Surface for Windows RT is its ability to run all desktop applications which can run on the Windows platform. This means you can install your favorite VLC player against the default Windows Media Player on the Windows 8 Pro environment (64-bit).
The Surface Pro runs on the third generation Intel Core i5 Processor with Intel HD Graphics 4000, a huge win over other tablets and a welcome change. It supports 4GB RAM (Dual Channel Memory) which can assist the user in carrying out powerful tasks which usually consume more memory, with ease right from the tablet device.
The Surface Pro has impressive storage options – 64GB and 128GB, which is a welcome addition to its commendable RAM storage.
Sporting a 10.6″ ClearType Full HD Display screen with 10-point multi-touch, this tablet device from Microsoft carries a pen along, having support for pen input. Two 720p HD LifeCams, in the rear and front, allow users to not just click great snaps but also engage in video-calling with their loved ones.
The Surface Pro sports a full-size USB 3.0 port, a microSDXC card slot and will have a battery life of approximately 5-6 hours (not confirmed).
Measuring 10.81 x 6.81 x 0.53 inches, it weighs 0.9 kg and comes with a unique VaporMg casing over the surface, thanks to the research efforts of the Microsoft Surface team.
The Surface Pro is mostly suitable for heavy business work etc. where easy running of all desktop applications is a compulsory need. With its impressive specifications and hardware details, Microsoft Surface Pro definitely packs a punch in this competitive tablet race.
Microsoft is yet to reveal details on its availability and pricing – this will most likely to be done on October 26, 2012.
For the complete specifications, download this specs sheet.
You might want to also check out these posts on Surface tablets:
Microsoft's Surface RT Tablet: Technical Specifications, Features & Impressions