Windows 8 might have received rave reviews for its super cool and touch optimized features but one user interface change brought it considerable amount of criticism – Start Screen. It had the classic Windows Start Menu missing! Many loyal Windows users loved 'Start' menu in Windows 7 and were therefore surprised not to find it in newest OS of Windows. The feature was killed and Microsoft was not planning to get in Windows 8 anytime soon. Result, users had difficulty while adapting to the new Windows environment.
Start menu replacement for Windows 8
While most got used to the new Start Screen, and no longer felt the need for a start button and menu on Windows 8, there are some who still long for a start menu replacement for Windows 8.
Quite a few tools were launched which reinstated the Start menu back. We have covered only a few of them here. These replacements promise to recreate the look, feel, and functionality of the traditional Windows Start menu. Some of these apps even allow users to boot directly to the desktop and hide the charms bar that appears whenever one moved his cursor to the corners of the screen, giving him a more traditional desktop experience.
Add Start Menu to Windows 8
One such third-party tool that I thought of trying out was Start Menu 8. It's the brand new Start Menu offering for Windows 8, that provides a quick and convenient way for users to bring back both the Windows Start Menu and the Start button, while also disabling things like Windows 8 Hot Corners, the Metro Sidebar and hot keys.
Start Menu 8 Review
The Start menu of StartMenu8 is very identical to the start menu of the Windows 7. When downloaded and installed an icon becomes visible on your desktop screen as shown in the screen-shot below.
A single click on the icon brings up the main menu where you see programs to the left side, along with a search button at the bottom and a shut-down button adjacent to it. Also there are links on the right to core locations of the system.
Here, one good feature I noticed about the program is it lets users automatically skip the Metro UI screen and immediately gain access to the desktop when Windows 8 loads. Also, it offers an option to directly switch to the Start Screen via its 'Switch to Metro' option.
A direct link to the Metro start page is present which I found quite useful. A sing click on the link – and you are on the Windows 8 Start Screen.
If you observe, the Shut-down option of StartMenu8 offers the same options as seen in the Windows 7 Start Menu shutdown. However, the search module at present, just allows desktop apps and files. Modern Store Apps too have not been included the search results yet.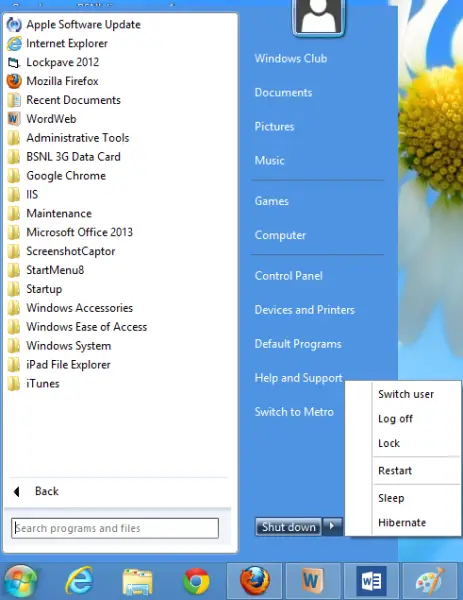 That apart, the free program is also capable of offering an easy-to-use and fully configurable menus that let users remove features they don't need or customize start button with their own images.
In my honest opinion StartMenu8 is a good freeware that brings back the Start Menu to Windows 8. Inability to add Windows Store Apps to the start menu and search can be counted as its only shortfall. A rare combination of simplicity and customization can be found in this utility.
 Start Menu 8 features
Easily Switch between Metro and Desktop Interface
Faster Access to Programs and Files
Customizable, Easy, and FREE to Use
Windows 7 like 'Search' feature
Multiple language support
You can download Start Menu 8 from here. Be sure to uncheck the other download option while installing Start Menu 8.
Go here to check out some more freeware to add Start Button to Windows 8.