When Microsoft first showed that it was no longer using the Start Button and Menu in its newest version of Windows OS – Windows 8, early testers labeled it as a major glitch & one of the most controversial decisions ever taken by the company. There was an uproar! Windows users felt robbed of a Start button and menu they had got to love so much! It was even harder for the long-time Windows users to let go of the button that once offered them quick access to important programs, folders, and most configuration options.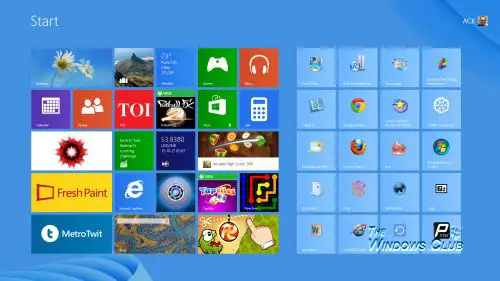 Start Menu or Button for Windows 8?
Critics saw the change as a strategy by Microsoft to try and get users to rely more on the Metro menu. They felt Microsoft was focusing too much on touch devices and ignoring the Desktop users.
But Microsoft stuck to its guns and continued to maintain the same UI for Windows 8.
As a result, the Start button and Start Menu has been replaced by the new, full-screen Start Screen. In fact, you may say the button has been re-engineered beyond recognition for Windows 8. By default, Windows 8 now boots to a Start Screen whose interface is seen populated with live tiles representing Metro or Modern or Windows 8 style apps. While the location of both the Start Screen in Windows 8 and the Start Menu in Windows 7 is the same File Explorer viz C:\Users\User Name\AppData\Roaming\Microsoft\Windows\Start Menu & C:\ProgramData\Microsoft\Windows\Start Menu, the appearance is completely different.
On the Start Screen, you can organize them all and configure the live tiles as per your requirements. For instance, you can view live status information. You can create a live dashboard where all of your apps such as email, social networking, calendar and other apps that provide you with updates in real-time are organized in one single place. And the best part is that you can see these updates without ever opening the app in question. This helps in overcoming the major limitation of icons, which are mostly static and do not have any way of notifying users when something changes. Desktop applications utilize more of static, non-sizable tiles that are similar to icons and cannot display live information.
So you see, everything that was available on the Start Menu in Windows 7 can be found elsewhere in Windows 8. You can easily search for any app just by typing its name. You can also see which devices are connected to your computer or personalize settings as per your choice by simply accessing the charms bar.
Moreover, the search feature in Windows 8 isn't restricted to apps or settings but offers a lot more. The feature is built into each and every app on your system. Commands which worked in Windows 7 Start Menu will also work in Windows 8.
I do accept that the Windows 8 start screen does look cluttered if you have too many tiles placed on it. It gets even worse when you see All Apps. The present way to create, organize, name, Tile Groups is not enough. It would have been nice if there were some way to categorize these tiles or shortcuts – or have a way where the items could collapse or expand as per needs. Switching between the desktop mode and the start screen too can be irksome at times. Microsoft should have given the option to opt for or enable the classic start menu, and also to boot directly to the desktop, if the user wanted it so on his desktop, but unfortunately, that was not to be!
So Windows users now have a choice. Continue to use Windows 7 or upgrade to Windows 8 and get the benefits and advancements available in the new operating system. Given the situation, if you do wish to upgrade to Windows 8, I feel it's important we all learn the new user experiences in Windows 8. Adapting to any change is difficult as it makes us change our patterns and behaviors and forces us to move out of our comfort zone. That there has to be a change adapting to changes is the most essential life skills an individual should possess. Change is inevitable and the only constant in life – and Microsoft perceived, that in this age of touch devices and tablets, users would want a better and easier way to access their files, folder, and programs.
Still, if some of you disagree with me and would like to get the old menu back, at least as an option, you can get some third-party Start Menu apps, which add the start button and menu to Windows 8 and also allow you to boot directly into the desktop.
But then…maybe it's time to do away with these crutches and learn to enjoy the beauty of the Windows 8 Start Screen!
I have been using Windows 8 for a while – I gave it a chance – unlearned a few things before I could learn a few new things – and now find that I no longer miss the Start Menu.
I am aware that not many may agree with my views, hence would love to hear your views. :)