For all you photo enthusiasts who like to store images on the web, Microsoft has just given you a reason to smile by announcing a host of new features of photo and file sharing to SkyDrive.com. As part of its continued effort to become one of the most efficient cloud storage service providers, Microsoft has added new features in SkyDrive with support for more file types, new editing features, more ways to share with anyone, and added controls over what you've shared.
SkyDrive new features
Let's check out the new features in SkyDrive.
View High resolution photos and animated GIF
With the new update, SkyDrive.com now supports higher DPI displays like the ClearType Full HD and Retina. SkyDrive.com can measure the DPI scale of your device, and when their screen supports, its shows higher resolution photos and thumbnails. Also,SkyDrive.com now supports animated GIF's which was not possible earlier.
Customized sharing with control
Until now SkyDrive allowed you to share an individual photo or the entire folder with your friends. Now with the new features you can share individual groups of files from anywhere in your SkyDrive. Omar Shahine, Group Program Manager, SkyDrive.com, mentioned on the blog.
"You can share two photos from your camera roll, or a hundred. You can share a file in one folder along with another file from a different folder. And you can share different things with different people."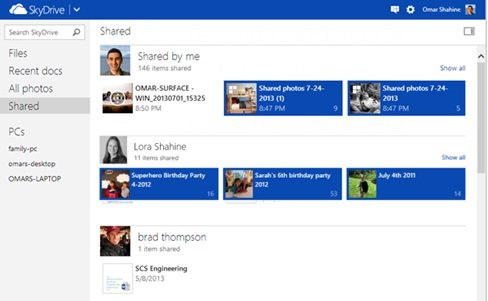 To keep a better track of all the things that you shared, SkyDrive has introduced "The new Shared view". This new Shared view shows you all stuff you've shared, and what's been shared with you. Your own stuff will be located at the top of the lost, sorted by what you've most recently shared. This is followed by a list of people who've shared something with you, sorted by who shared things most recently.
SkyDrive has also provided an extension to the edit facility. By checking "Recipients can edit" option you can allow recipients to edit the documents when any SkyDrive file is shared with them via an email.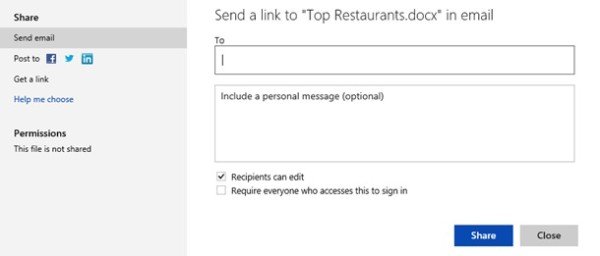 A special mention for developers
On the developer point of view SkyDrive now allows you to edit many different kinds of text files in the browser by adding native support for viewing and editing many different kinds of text files. The code files include JavaScript, CSS, HTML, etc., which can again be shared with others and edited by them.
Last week, Microsoft had announced new bandwidth-saving placeholder files and offline file access options in SkyDrive for Windows 8.1. And now with new web features added in SkyDrive.com it certainly makes Microsoft a tough competitor against Dropbox, Google Drive, SugarSync, and other cloud storage providers.