In our earlier posts, we have been regularly seeing the constant improvements and new feature additions to SkyDrive.com. And the new year too starts with few improvements to SkyDrive.com announced by blog post by Omar Shahine, Group Program Manager,SkyDrive.com.
SkyDrive team has now added new HTML5 features for touch devices, for a faster and more fluid experience across devices and introduced more drag-and-drop capabilities making files, photos, documents management much easier. And for a at-a-glance view and easier control of who has access to your files, a single unified view of each file is now provided. Apart from these improvements, SkyDrive team is also releasing number of under the hood improvements making SkyDrive.com much faster and more reliable.
Let us check some more details about these –
Unified view for Sharing Permission
SkyDrive provides number of ways to share your files, be it via Email, Facebook, Twitter, LinkedIn or simply by generating a link to send to whoever you want. So with a lot of people using this feature, there can be more than one ways to share to different users. For making this easier SkyDrive.com now provides an integrated view. When you select a document and click Share, you'll see all the different ways to share the item as well as who has access.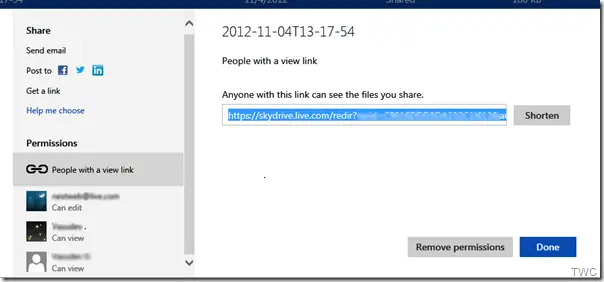 As you can see in the above image, different people, to whom this file has been shared, are listed along their access permissions whether they can edit or just view.
When you select any of these people with whom you have shared, you can edit their access permission to that file or remove the permission.
Improved selection for touch-based devices
On a touch based device, you can now select an item or multiple items by swiping on the item to the left or right, just as you interact on a Windows 8 PC. You can tap the item to select and repeating it will un-select it. Better touch interaction when using SkyDrive.com on touch devices.
Improved drag-and-drop support
You can now just drag and drop a file anywhere in the hierarchy of your SkyDrive using the breadcrumb bar shown as the target.

As you can see in the above image, the file from the 'Scans' folder is being moved to 'Documents' folder
All of these features are releasing today and should be available in your SkyDrive soon.