Do you know the exact spot which has the maximum Wi-Fi signal strength in your house? Well, you can probably tell that by the number of solid bars in the Wi-Fi icon in the taskbar. But that might not be the best way for you. The solid bars give you an abstract idea about how the signal strength but will not give you an exact number or value. The exact value can help you in your analysis and will also provide you results that can be used to improve Wi-Fi signal strength at your home or office.
Check Wi-Fi signal strength
1] Command Line Way
The simplest way of doing so will be by typing in some commands in a CMD window. This method does not require any software installation, it is simple and quick. Make sure you are connected to the Wi-Fi you want to run a signal test on. Now open a CMD window and execute the following command:
netsh wlan show interface

This will give you detailed information about the wireless network. This type of information is not available in network and sharing centre or even the settings app. You can view GUID, Physical Address, State, SSID, BSSID, Network Type, Radio Type, Authentication, Cipher, Channel, Receive/Transmit rate and most importantly the signal. The signal is represented as a percentage value and is the most accurate measure of the strength. You can run this command as many times and you will notice the change in signal values every time you move around your device a little bit.
2] GUI Way
If you are not fond of these black box terminal windows, then there is a GUI based solution for you.  WirelessConnectionInfo is a freeware application that lets you view all the details about the wireless network you are connected to. Well, it gives you a lot more details that the command line method gave you and one of them is the signal strength. You can also export the data as an HTML report and later use it for sharing purpose.
WirelessConnectionInfo like any other Nirsoft tool offers a variety of visual customizations. It supports most of the common keyboard shortcuts and you can easily refresh the stats and signal strength by pressing F5 on your keyboard.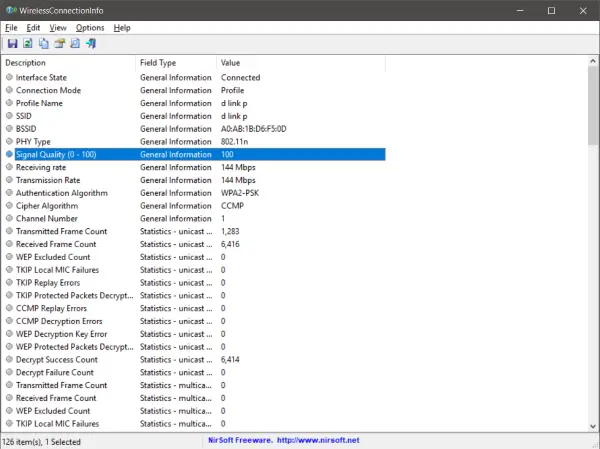 Click here to download WirelessConnectionInfo.
So this was how you can view the exact signal strength of a Wi-Fi connection. You can use the above methods to find the best spot in your home or office. Or these methods can be used to find out the best place to install a new Wi-Fi router. You can keep your computer static and move the router around and see how the signal changes. There are endless possibilities for how you want to use these methods to your rescue.
TIP: Homedale for Windows 10 lets you manage your WiFi strength.