One of the new features of Windows 10/8, is downloading of Windows Store applications. Often you might encounter issues where the downloading of Windows Store apps get stuck halfway or when you try to install or update it on your Windows 10/8.1 PC; it does not work.
Today I discovered a way to reset the cache for Windows Store. What it does, is that it resets the Windows Store without changing account settings or deleting installed apps.
Clear Windows Store Cache with WSReset.exe
The process is a lot easy and simple. Run CMD as administrator, type WSReset.exe and hit Enter.
Alternatively, in the Start search, type wsreset.exe. On the result which appears, right-click and select Run as administrator.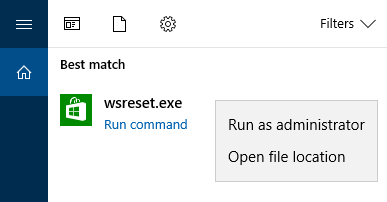 A command prompt window will open after which the Windows Store will open and you'll get a confirmation message saying that:
The cache for the Store was cleared. You can now browse the Store for apps.
It will then take you back to the Windows Store. Now try to install or update the apps or download fresh apps and see if it's working as it should.
If you receive an error-
Windows cannot find 'ms-windows-store:PurgeCaches'. Make sure you typed the name correctly, and then try again,
you need to re-register the Windows Store app by running the following command in an elevated command prompt window:
powershell -ExecutionPolicy Unrestricted Add-AppxPackage -DisableDevelopmentMode -Register $Env:SystemRoot\WinStore\AppxManifest.xml
Incidentally, our freeware FixWin 10 for Windows 10, lets you reset Windows Store Cache, in a click. If this doesn't help, you may want to repair your corrupt Windows Image or Component Store using DISM.
Reset Microsoft Store via Settings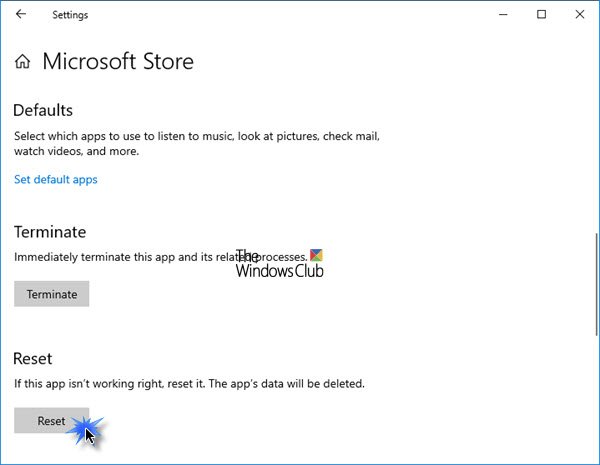 Windows 10 now allows you to Reset Windows Store apps in Windows 10 via Settings. To reset Microsoft Store, open Settings > Apps > Apps and features > Search for Microsoft Store > Advanced options > Use the Reset button.
Related reads: