Windows Phone has a built-in alarm which does the job for us regarding small tasks as setting up the alarm for the same time every day and other. If you want to have full control over alarms you set in your Windows Phone or want to personalize and use the built-in alarm in a very different way, then Realarm App is what you are looking for.
Realarm

for Windows Phone

Realarm app for Windows Phone has a simple interface. It recently received an update which included Voice Control and Calendar features. If you want to get the alarm with the music you love, then you can even do that using Realarm. This app allows you to set different sounds for different alarm, so that you can wake up with a new sound every day.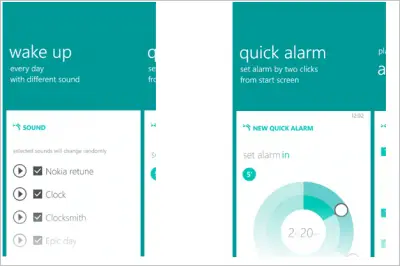 Realarm for Windows Phone has brought a new feature called Agenda. You can enter your schedule for the day, say you need to attend a meeting, prepare for the presentation and many more, you can set them up in Agenda and can let Realarm alert you right from the Agenda. It allows you to set a quick alarm with just two clicks right from your start screen and you can repeat same alarm every day with different sound.
You can create an alarm using the Voice commands. For example, you can set alarm as "Wake me up after 2 hours" and it gives you the alarm after the specified time. If you want to do specific task over a period of time, then you can make an entry in the Calendar and the Realarm app takes care of managing the alarms for you. It can be single alarm or repeat alarms, app takes care of them.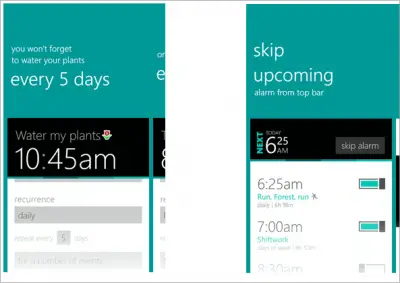 Realarm for Windows Phone allows you to share your alarms with all your devices by storing all your alarms in your OneDrive account. When you install the Realarm App, just log in to OneDrive and can perform backup or restore when you want.
Some of the best features of Realarm for Windows Phone are,
Added "Skip next" and "Cancel skip" voice commands.
Backup and Restore using OneDrive.
Shows the state of alarms (remaining/expired/disabled/skipped) on the main page.
Alarm sorting methods.
Shows the next alarm on the top bar.
Beautiful live tile and already passed away alarms are hidden from Agenda.
Download Realarm for Windows Phone from the Windows Store free of cost. There are many more features added and it is said to be one of the best alarm app for Windows Phone.