Scrolling is one of the most used features on any browser, and Microsoft is rolling out scrolling improvements in Edge. The primary goal is to improve scrolling speed and responsiveness. If you ever felt that scrolling in Edge was not as good as how it works with other parts of Windows, this improvement might change it.
Scrolling feedback for Microsoft Edge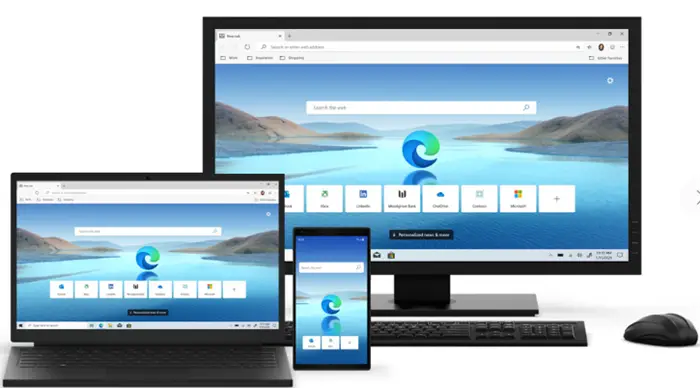 Based on thousands of the feedback received from those who are using the Canary version of Edge, the feedback offers the following details:
41% on personality
39% on functional issues
13% on specific performance issues
5% on PDF scrolling
2% General feedback
Keeping this in mind, the Microsoft Edge team has decided to focus the effort on personality and performance. Once Microsoft can achieve this, the scrolling experience will be as good as the native experience of Windows 10.
Performance Scrolling improvements in Microsoft Edge
Microsoft is working hard to bring more and more features of Microsoft Edge HTML, which were better compared to Chrome. While Edge is based on Chromium, as of now, the team is finding it is best to combine the best of both the world.
New Animation curve for scrolling
Percent-based scrolling
Overscroll bounce effects on the root scroller
Scroll latching over chaining
Fling boosting
Removal of Quick Flick
Microsoft is also trying to detach features that are related to the OS as the browser is now available on multiple platforms.
1] New Animation curve for scrolling
It improves the scroll animation as it is more tactile and less abrupt when there is a sudden change in velocity. You can experience this using a mouse wheel, keyboard, or scrollbar or by using touch to do a fling.
Note: The feature, however, is still being refined on some legacy non-PTP touchpads. Microsoft will announce more on this in the Insider build.
2] Percent-based scrolling
As Microsoft Edge moved to the Chromium version, the scroll values were based on it.  Microsoft Team is brining back the percent-based scrolling, which uses scroller height to compute scroll delta. It will make it much easier to navigate smaller scrollers.
Chromium-based browsers such as Chrome use 100px per mouse wheel tick, 40px per scrollbar button click or keyboard arrow press.
3] Overscroll bounce effects on the root scroller
Rubber banding is an effect which depicts the end of the page by bouncing the lower part of the page. It is a signal to the user that they've reached the end of a page while scrolling. 71% of the users preferred this feature.
Note: Just like the new animation curve, it is not enabled for both for touch input and PTP touchpad input in Microsoft Edge when scrolling in any direction.
4] Scroll latching over chaining
While Scroll chaining makes sure there are no annoying page jumps when you click or tap on something. However, at times, it makes the page jump to the bottom. Microsoft finds that chaining is rather annoying, and plans to stick with scroll latching which fixes this problem.
5] Fling boosting
Integrated with the animation curve, Fling boosting will make sure you can scroll at high speed to reach the destination. Many a time you are almost aware that where you want to be on the page, and this feature masks sure you can read faster to that location.
6] Removal of Quick Flick
Consider Quick Flick like a small boost to scrolling. While it was built to help users scroll quickly, but it resulted in large scrolls.
Along with these, the Microsoft Edge team is evaluating the following feature in future updates.
Overscroll effect in sub-scrollers
Pinch zoom over scroll effect
More tuning for individual personality effects and interactions based on your feedback
We hope the features to come in 2-3 months as they are still in Canary. You can use the beta to get early access as it can be installed secretly.