PCFerret is a simple program designed to find hidden files, data and software on a Windows computer, which may be difficult to find otherwise. This lightweight application takes less than a minute to land on your PC and you can start running it right away after a very quick installation. PCFerret scans the entire components of your PC and gives you detailed information in no time. The simple layout shows all the tabs and button in the main overview and even a beginner can run the program easily.
Find hidden data in computer
PCFerret will help you find hidden data in your Windows computer. Let us have a look at some of its features.
System Details
If you are looking for the basic details about your system, such as the amount of RAM, operating system of your PC, computer name, motherboard details etc., run the 'Quick System Details' and if you want to get the detailed information about your PC, click on 'Full System Details'.

The 'Full System Details' scanning may take around a minute or so but gives a detailed report with all important information including-
Operating System
Motherboard
BIOS
Monitor
Processor
Details about every single Drive in your PC
Network adapters
USB Controllers
Printers
Antivurs software installed on the PC
Sound devices
Account names with complete user details
Find Files by Type
If you want to find any particular file type on your PC, click on the tab 'Find Files By Type'. The program analyzes the entire drives, folder and subfolders of PC and helps you finding any required file. The program can search for any type of file including Images, Movies, Executable files, Encryption files, Compression files, Word files etc.
Browser Cache
PCFerret can also find the cached URLs stored in your PC. Go to the tab 'Cached URLs', select the browser and click on 'Start Analysis'. The program then gives you a detailed list of cached URLs stored in your PC. It may take a few minutes.
Detect Tor Browser
Tor is a form of network surveillance that helps you defend your PC against traffic analysis. The Tor Browser detection feature of PCFerret helps you detecting the presence for the Tor Browser in your PC. Just click on symbol 'T' under the tools section and the system will start scanning your drives to detect the TOR if any.
Password Generator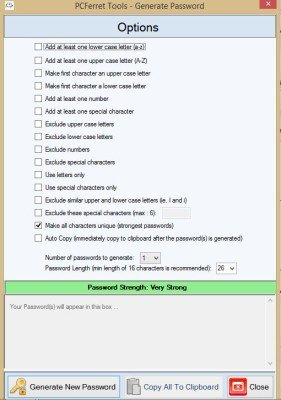 The password generator feature of PCFerret helps you generating very complex passwords for different applications and websites. You can use various customization options and generate up to 20 password in a single click.
PCFerret also gives you the detailed information about:
Reboot Operations
ADS (Alternate Data Stream) Discovery and manipulation
Windows reboot operations discovery and manipulation
MD5 / SHA Hash Generation Tool
Tor Browser Detection
Fully integrated help system which does not require Internet access in order to function
Industry standard installation process which is both fast and simple to use
PCFerret download
The program uses well-tested algorithms to find hidden data stored in your computer and gives you the accurate and reliable results.
UPDATE: It appears that PCFerret is now no longer free.
Check out instead:
ZoneIDTrimmer will help you quickly remove the Zone.Identifier alternative data stream
GMER Rootkit Detector removes Alternate Data Streams, Drivers hooking SSDT, drivers hooking IDT, Drivers hooking IRP calls, etc.
Phrozen ADS Revealer will reveal possible malicious ADS or Alternate Data Stream files in your Windows file system.