PC Pistop the developers of PC Matic, a Windows optimization software have released PC PitStop PC Matic Home Security Free Version. This free version of PC Matic Home Security includes all security features of PC Matic. Since PC Pitstop was now offering a free version, I decided to take it for a spin.
PC PitStop PC Matic Home Security review
Once you download and install the software, it will download the latest virus definitions. If you wish to change the default options, you do so via the Options button. Once you have set them, you need to now click on the Scan button. The software will then start its scan for malware as well as outdated software.
Anti-Virus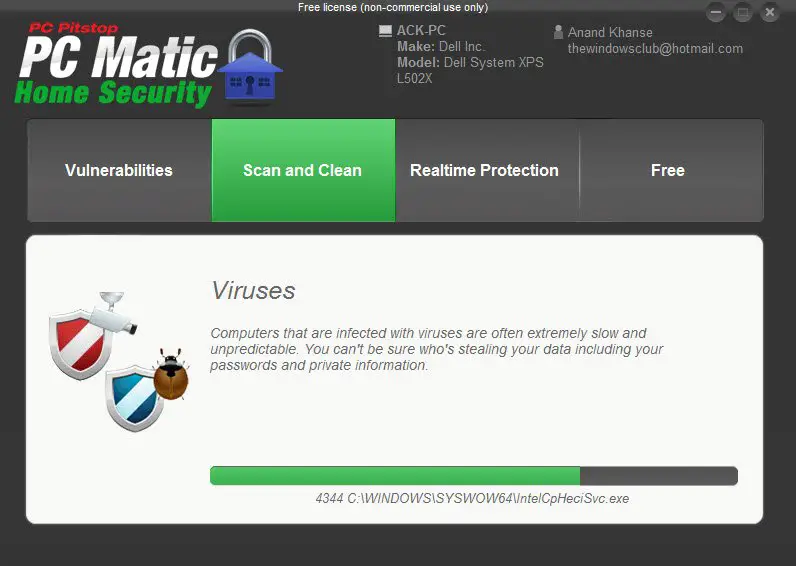 PC Matic Home Security uses the Vipre scan engine and antivirus definitions, which has the VB100 award in its basket, apart from many other such recognitions. The Vipre engine has been licensed from Threat Track in Clearwater, Florida.
PC Matic has included white list protection which blocks and does not allow the virus to propagate or morph. PC Matic Home Security also includes a black list as a scan and clean engine. It also includes the Cloud Scheduler. Their cloud scheduler allows the user to remotely schedule scans and cleans and receive reports in users inbox.  The scan takes a reasonable amount of time. It did find a Trojan named trojan.win32.generic.pak!cobra which actually took me by surprise!
I went to search in the UI to see if I could find the path of the file. There was no way I could find out which file I would be deleting if I chose to select Fix All. Was it real malware? Or was it a false positive? A search on Bing lead me to this link:
Trojan.Win32.Generic.pak!cobra or Trojan:Win32/Sirefef.M is a generic detection for a wide variety of malware that can affect 32- and 64-bit Windows operating systems.
But that still did not satisfy me. So I generated a log file using an option in the program itself and went through the log. There I found that it had wrongly identified our freeware HotShut as malware. A clear case of a false positive. Whew … that relieved me in a way, because what I read about the Trojan did make me uncomfortable.
I wish the program had a Quarantine box, where one could get more details about the the malware or suspects so that one could restore them if it were a case of such false positives. I had to download HotShut again.  I also wish there was a way to Stop or Pause the scan. The only way I found was to exit the program by clicking on the 'x' button. While one could via the UI select a particular folder or file to scan, there was no context menu integration.
Vulnerability – Automatic Patch Management
PC Matic Home Security also includes the Vulnerability, automatic patch management module. There is no denying that apart from the operating system, one must also always keep one's installed software up-to-date. This module of PC PitStop PC Matic Home Security is pretty impressive.
It scanned my Windows 8 computer and found that I had an old version of Foxit PDF Reader. It offered to download and install the latest version. Once I said Yes, it downloaded the latest version of Foxit, uninstalled my old Foxit version and installed the latest version. All this went on very smoothly.
Super Shield
The freeware also includes Super Shield, a white list real-time protection module. The SuperShield is PC Pitstop's proprietary real time security technology designed to take maximum advantage of Cloud Computing to keep your PC safe from online threats. This white list approach of PC Pitstop claims to block polymorphic viruses that defeat virtually all the real time protection on the market. If you visit a compromised web site, your Windows machine could get infected. PC Matic Super Shield closes all of these holes making your computers substantially more secure for online browsing.
The software sits quietly in the Notification Area of the Windows Taskbar; its context menu offering you various options like Setting of protection level, Monitoring file access, and so on.
The UI is pretty basic and functional. You will be reminded to upgrade your license to PC Pitsop PC Matic full version at every step – although you can close the window by clicking on the 'x' button and proceeding to the next step. PC Pistop PC Matic full version includes additional features like Performance Optimization, Stability Tweaks and Internet Speed optimizer.
PC PitStop PC Matic Home Security free download
If you are a Windows user who wants to install a free home security software that keeps your computer protected from malware, automatically run scheduled antivirus scans and check for and install outdated software automatically, without your being disturbed, you might want to check out this offering from PC Pitstop. You can download PC PitStop PC Matic Home Security free version here. (Update: The free version seems to have been discontinued).