Microsoft has officially started rolling out Windows 10 v1909 November 2019 Update for both consumers and enterprises. In this post, we are looking at the new features that have been introduced that will interest IT Pros especially!
New features for IT pros in Windows 10 1909
1] Support Period
Starting today, if you update to Windows 10 v1909, Microsoft will support devices running the Enterprise, and EDU editions will receive 30 months of support. Compared to this, Windows 10 Home, Pro, etc. only get 19 months of support.
2] Windows Virtual Desktop
If you plan to invest in the cloud, Windows Virtual Desktop can do a lot of savings for you. Windows Virtual Desktop offers multi-session Windows 10, optimizations for Office 365 ProPlus, and support for Remote Desktop Services (RDS) environments. If the costs workout, then it can be an excellent solution for those who do not want to maintain their own set of computers. More on
3] Desktop Analytics
It is a cloud-connected service, integrated with Configuration Manager. It offers data-driven insights and intelligence. Use this to make decisions about the update readiness of your Windows endpoints.
4] Microsoft Connected Cache
It works when installed on the Configuration Manager distribution point. It can cache content efficiently at the byte range level. Connected Cache is a "configure once and forget it" solution that transparently caches content that your devices on your network need.
5] Microsoft Endpoint Manager
It is a single, integrated endpoint management platform for managing all of your endpoints. It combines Microsoft Intune and Configuration Manager. Both make it possible to support diverse scenarios for both bring your device (BYOD) and corporate-owned devices.
Apart from these, Windows 10  v1909 offers several new features available for all the users, including Windows 10 Home and Professional. While you can read about them in detail in our Windows 10 v1909 Feature list, here are some of the important ones:
Calendar – Create events on the fly from the Taskbar
Cloud Clipboard: Allows you to sync clipboard data between multiple PCs. It works with Microsoft account or Azure account.
Microsoft BitLocker key rolling securely rotates recovery passwords on MDM-managed devices. The feature is activated whenever a BitLocker-protected drive is unlocked using Microsoft Intune/MDM tools or a recovery password.
Windows 10 Pro and Enterprise in S mode can install or run Win32 apps. A policy related to it should be enabled to turn on the support.
Windows Defender Credential Guard is now available for ARM64 devices such as Surface Pro X.
Windows Sandbox supports mixed-version container scenarios. It allows you to run a sandbox in a different version of Windows 10 than the host operating system.
Looking at the features of Windows 10 v1909 for IT pros and consumers, it does not look like a significant feature update. It seems like Micorosft has delivered an update that has fixed more bugs than on new features.
You can read the full details here on Microsoft.com.
Windows 10 1903 New features for IT Pros
The new features for IT Pros in Windows 10 v1903 are:
Deployment.
Servicing.
Security.
Microsoft Edge.
1] Deployment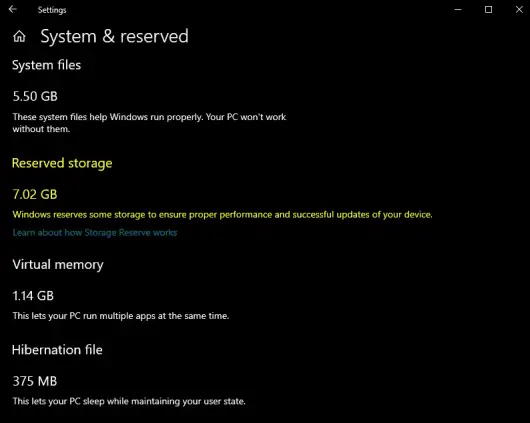 Reserved Storage: You can learn more about Reserved Storage in our guide.
Windows Autopilot: Windows Autopilot is a collection of tools that will enable the System Administrator to set up pre-configured devices. Microsoft has introduced Windows Autopilot for white glove development, tracking of Intune Management Extensions, Cortana voiceover and speech recognition disabled by default, Diagnostics data level to be set Full by default.
Windows 10 Subscription Activation: Support for the Windows 10 Education edition has been added to Windows 10 Subscription Activation.
SetupDiag: SetupDiag is based on the command line and is used to diagnose why a Windows 10 update failed by scanning Windows Setup log files. In this release, SetupDiag has been updated to version 1.4.1.
2] Servicing
Delivery Optimization: Some new policies have been enabled to improve Peer Efficiency. It now supports Office 365 ProPlus updates and Intune content. More capabilities are coming soon.
Automatic Restart Sign-on (ARSO): Windows 10 can now automatically login as the user and lock the device when completing the installation of an update.
Windows Update for Business: The SAC-T designation is now removed. Now, there will be a single, common start date for phased deployments.
Update rollback improvements: If a startup failure is introduced after the installation of an operating system or driver update, you can now automatically recover by removing the updates.
Pause updates: Both features and monthly updates can now be paused for up to 35 days straight.
Improved update notifications: The iconography of the power buttons in the Start menu will change when you have a reboot pending to install an update.
Improved update orchestration to improve system responsiveness: To minimize disruptions, Windows 10 will download and install updates to the operating system or the apps downloaded from the Microsoft Store by checking when the computer is idle.
3] Security
Windows Information Protection: Auto Labeling is introduced with this update, which will help Windows Defender ATP (Advanced Threat Protocol) to extend the discovery and protection of sensitive information.
Security configuration framework: A new taxonomy for security configurations called SECCON framework is introduced with this update. Learn more here.
Intune security baselines: This is currently in preview but now supports settings by Intune that will help you in fine-tuning the security settings of a user.
Microsoft Defender Advanced Threat Protection (ATP): Under this, features like Attack surface area reduction, Next-generation protection, Platform support, and more are added.
Microsoft Defender ATP next-gen protection technologies: Features like Advanced machine learning, Emergency outbreak protection, Certified ISO 27001 compliance, and Geolocation support are added.
Identity Protection: FIDO2 certification, Streamlined Windows Hello PIN reset experience, Password-less Microsoft Accounts and Remote Desktop with Biometrics will help a user to securely login across various aspects of the operating system and even the supported websites and portals.
4] Microsoft Edge
A whole new set of Group Policies and MDM policies have been introduced for better management of Microsoft Edge for professionals. You can silently now enable BitLocker for standard Azure Active Directory joined users. And with Microsoft 365 Admin Center, the entire Microsoft 365 experience can be now customized.
Microsoft has started rolling out the sixth feature update of Windows 10 v1809.  IT pros are one of the biggest segments of Windows Business. In this post, we are looking at the list of new features for IT Pros in Windows 10 October 2018 Update. Microsoft claims that Windows has improved a lot when it comes to managing devices, and deployment with  Microsoft 365.
New Features for IT Pros in Windows 10 v1809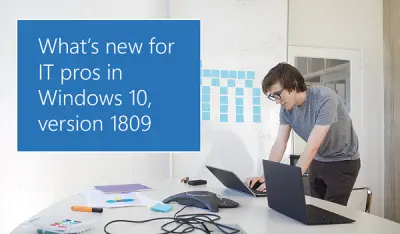 Security with Windows Defender and Deployment seems to be the major focus of this feature update for IT pros.  The former seems to have got a huge boost.
Security Features with Windows Defender
1] Windows Defender with Advanced Threat Protection or ATP gets its own set of interactive reports which will offer intelligence on Organizational risk. Administrators can also write their own custom queries to pinpoint specific data points and create custom alerts. These alerts can be automatically resolved through an automated investigation that signals resolution of the problem.
2] Microsoft Threat Protection which was announced at Ignite 2018, now integrates with Azure Advanced Threat Protection, Azure Information Protection, Office 365 Threat Intelligence, Microsoft Cloud App Security, Microsoft Intune, and Skype for Business.
3] Microsoft Secure Score, previously known as Office 365 Secure Score, can remark on how to secure PCs are in your company by taking data from Windows Defender, security updates, firewall, and other security parameters. As a result, admins can find out outdated PCs rather quickly.
4] In order to mitigate exploits from the new type of threats, Attack Surface Reduction or ASR in Windows Defender offers:
Security admins can define allow and deny a list of URLs and IP addresses and apply to devices with advanced web protection.
ASR capability has been extended to protect devices from ransomware, credential misuse, and attacks that are transmitted through removable storage.
It also offers a new tamper-proofing feature to isolate critical ATP security capabilities. This is virtualization-based security which will make sure to block anything reaching to the OS and block the attackers.
5] Next-Generation Protection is now using advanced machine learning and AI models. This will help in blocking those type of attackers who get creative using exploit techniques. They are common terms as Apex attackers. Apart from these, it will also automatically update devices with new intelligence to block those attacks using emergency outbreak protection.
6] Apart from these
There is support for MSSP, Windows Server 2019, and  Windows Defender ATP's functionality has been extended to support Windows 7 and 8.
Password-less login using Windows Hello with FIDO2, Web Authentication (WebAuthn), and Microsoft Authenticator.
Firewall support for Windows Subsystem for Linux (WSL).
Deployment and management
1] Windows Autopilot
This interactive tool will let IT migrate existing devices from Windows 7 to Windows 10 with a few clicks.
It also supports Hybrid Azure Active Directory (AAD) Join. It offers zero-touch provisioning, i.e., plugin, turn on, automatically provisioned. This will turn out to be a great option for shared devices, kiosks, and digital signage.
Offered at no extra cost, the Desktop App Assure service Windows 10 Enterprise and Windows 10 Education address issues that are usually encountered with Windows 10 and Office 365 ProPlus application compatibility.
2] Update Package Size and Release Support
Windows will now offer compact update packages and reduced download package size for x64 systems. This will ensure faster deployment with low downtime. Not to forget will also ensure that companies can save bandwidth when using WSUS or Configuration manager for updates.
Starting with Windows 10 v1809, all feature updates for Windows 10 Enterprise and Education will get support for 30 months from their release date.
Microsoft will also offer Windows-like update channels for Office 365 like Semi-Annual Channel, Long-Term Servicing Channel
3] Apart from these, there are a few small but important features:
Tailored browsing experience for kiosk devices or digital signage with Microsoft Edge.
Fast sign-in for shared devices using the Authentication and EnableFastFirstSignIn policies in the Policy CSP.
Language Interface Packs (LIPs) will be faster to install and have a smaller OS footprint.
Windows Analytics in the Azure portal formerly found in Operations Management Suite (OMS).
Microsoft 365 Admin Portal to manage and monitor your Windows 10 devices, Office 365 applications and Enterprise Mobility, and Security solution from one single console.
Microsoft will soon offer Windows Virtual Desktop and Desk Analytics in Preview.
Productivity
Windows 10 v1809 has rolled out a lot of smaller but significant features.
1] Microsoft Search: It offers organizational search into the apps, results from Bing.com and Windows, and the organization's network of data. Its based on artificial intelligence (AI) technology from Bing.
2] Learning Tools in Microsoft Edge lets users hear any webpage, PDF, or ePub. Above all, you can plug in your earphones while it read out loud while following along with the words on the screen. You can also improve the reading experience by adjusting the font and line spacing in ePub books.
3] Deep integration with Android devices makes it possible to work on apps installed on your phone, and almost mirror everything to your Windows PC. Using Microsoft launcher, Timeline concept is now available with Android devices.
4] You can now design your slides with a pen, and then easily convert them into a polished presentation.
That said, Windows 10 1809 will roll out to  Volume License customers via the Volume Licensing Service Center (VLSC) in the coming weeks, and to Microsoft Partners from October 5th (Enterprise only). The rest of the versions will be available on October 22nd.
Windows 10 Creators Update or Version 1703 is the company's latest major upgrade to the Windows 10 operating system. This update brings along a host of new features for creative and IT Professionals alike. With enhancements to Windows Ink and Cortana, better battery life, improved accessibility, and more control over privacy settings, Creators Update has a lot going for itself when it comes to usability for IT Pros.
Useful features IT Pros in Windows 10 v1703
Let's have a look at some of the features that have been launched for IT Professionals in Windows 10 v1703.
Windows Configuration Designer will now be available on the Windows Store in the form of an app. Without the need for imaging, this app will let you create provisioning packages and also delete pre-installed software in all the wizards.
Windows Hello For Business
The Windows Hello program for Business has been improved to support organizations that are not using Azure services for lack of proper authentication. The software also adds two-factor authentication to ensure passwords are not vulnerable.
The new and advanced Windows Defender Advanced Threat Protection is a much-needed addition to the operating system's breach protection defense. The new ATP software helps you create custom threat intelligence alerts, investigate a specific user account, and take immediate actions on a machine or file to suppress a breach in the system.
A new MDM Migration Analysis Tool has been introduced with Creators Update that helps you transition Windows 10 device management from the standard Group Policy to MDM by assessing which policies currently in use are available through MDM.
You can also now customize the Start and Taskbar layouts from Group Policy along with new support for customized taskbar policy deployed via MDM. This feature will only be available on Windows 10 Professional.
Cortana is Microsoft's digital assistant that helps you accomplish all the personal work. With Windows 10 Creators Update, the tech giant is extending its support to the Enterprise side of things. With an Azure Active Directory account, your employees can now give Cortana access to your work identity to help them segregate tasks according to artificial intelligence.
Mobile Application Management
The new update also brings along support for mobile application management, which includes integration with Windows Information Protection. This service provides individuals with access to business apps on their personal Windows devices while safeguarding the personal data as per permissions for every employee.
The new update has a lot going for all corporate employees. It adds the option to download Windows 10 Insider Preview builds using employee credentials in the Azure Active Directory. By enrolling devices in AAD, you can increase the visibility of feedback submitted by users in your organization – especially on features that support your specific business needs.
With Windows 10 Creators Update, express updates are finally fully supported on System Center, which can be used by native as well as third-party developers to create custom update settings for users.
Windows Defender Antivirus
Windows Defender will be officially renamed to Windows Defender Antivirus. Apart from a name change, it also gets some significant changes like an expanded documentation library enterprise security admins. It also gets the ability to specify the level of cloud protection for different users.
Upgrade Readiness is a program that gets you all set for a major future upgrade on Windows 10. The solution provides up-to-date application and driver inventory, information about known issues, troubleshooting guidance, and per-device readiness and tracking details.
A new Quick Create option has been added to create virtual machines in Hyper-V.
This post will be updated whenever a new version of Windows 10 is released.